Nash matures into a leader for NMSU volleyball team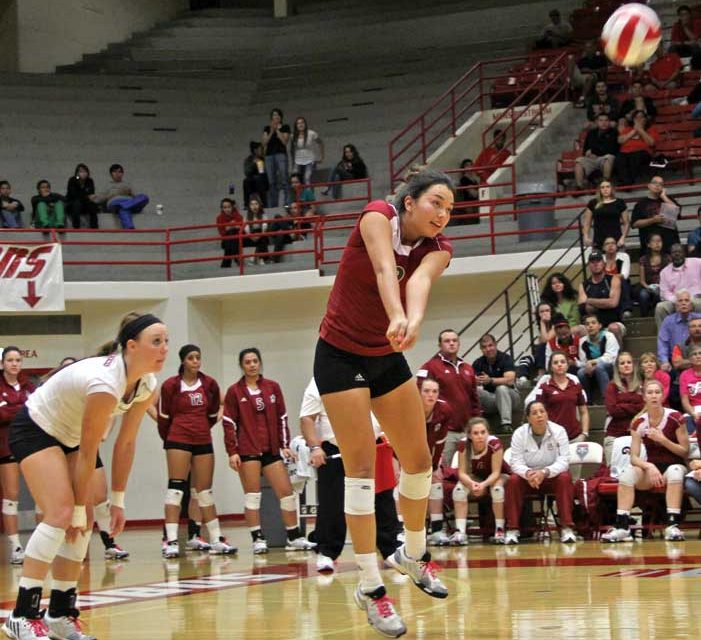 ABOVE: New Mexico State University red shirt junior and Kayenta, Ariz., native Bradley Nash completes a pass during a volleyball match with the University of New Mexico on Monday. Nash finished the match with 4 kills, 2 assists and 4 digs. The Aggies fell to UNM, 3-0. (Times photo – Sunnie R. Clahchischiligi)
---
ALBUQUERQUE
On Monday night at a match with the University of New Mexico, where the Lobos defeated the New Mexico State Aggies 3-0, Bradley Nash proved to be the same girl everyone knows from Kayenta, Ariz.
They saw the same girl who yelled in excitement after a successful play by her team and who greeted fans, young and old, with her youthful smile after the match.
But NMSU head coach Michael Jordan is looking for her to be a leader.
"She's a wonderful person and she's a very good teammate," Jordan said. "This year we're counting on her more and other veteran players to put up the numbers, to have more of a leadership impact."
Nash helped lead the Monument Valley Mustangs to three state titles in 2008, 2009 and 2010.
But the 21-year-old junior said to be a leader at the collegiate level is an entirely new experience.
"We're a successful program and to even be considered as one of the players that he (Jordan) can rely on is an incredible honor," Nash said.
While Nash still carries a youthful, witty personality there was noticeable growth. She tried to pick up the team after a failed play and showed confidence.
The growth of Bradley Nash the quiet, laid back hitter to Nash the confident, wise veteran has been years in the making.
Jordan said when Nash first showed up in the 2011-12 season she needed some refining.
"She was not someone who could pass full time," he said. "She was an OK attacker but not as versatile as she is now. Overall she's just grown and got a little bit tougher."
Nash currently leads the team with 156 kills, 2.36 per set, and has the second highest number of digs with 136, 2.06 per set.