Ropin' for dollars: Lowman blazes trail with WNFR qualification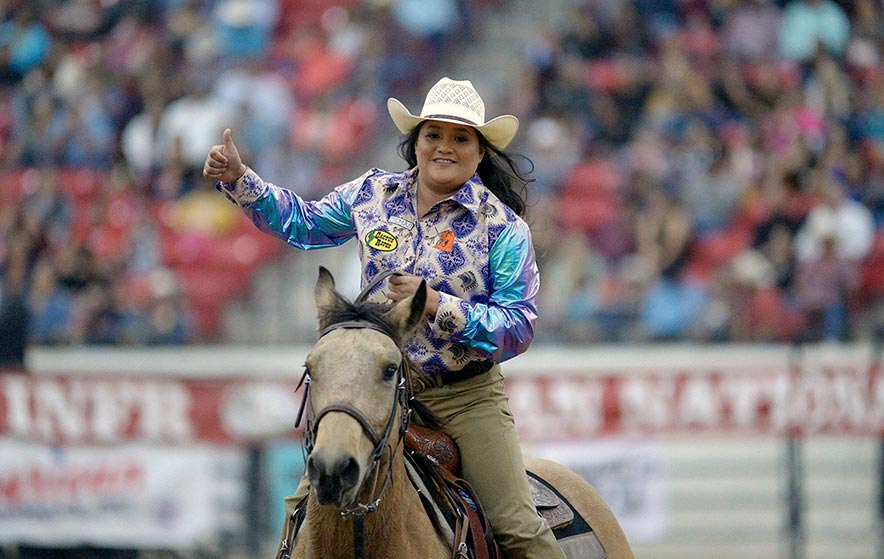 WINDOW ROCK
In her second full season on the tour, Danielle Lowman blazed a new trail by qualifying for her first Wrangler National Finals Rodeo.
The Gilbert, Arizona, breakaway roper placed in four rounds during the 10-round, two-day event at the Orleans Arena in Las Vegas earlier this month.
"Just being there and being a part of the breakaway world was just amazing," Lowman said. "Those girls have a lot of talent and for me to dig right in there and be one of the top 15 says a lot of how much I've grown.
"I think this is a stepping stone of who I want to be, and how I'm trying to approach rodeo," she said. "I sure want to make a living out of it and I think I'm finally heading in the right direction."
At the NFR women's breakaway event, Lowman earned four checks with her best finish coming in the ninth round when she recorded a 1.9 run for third-place.
In the sixth, she tied with Texas cowgirl Taylor Hanchey as both cowgirls posted a 2.4 run, which was third best in the round.
In the third and fourth round, Lowman earned a pair of fourth place checks with runs of 2.2 and 2.4 seconds.
And although she slid down a notch, Lowman was happy to have finished No. 9 in the world with $43,408 won.
"I think it's pretty cool to just see my name in the top 15," she said. "It's a big accomplishment and I couldn't have done it without my support system.
"My family and friends really helped me this year," she said. "When I had two weeks of rodeo, I had a driver and someone who help me with my horses.
"They all pitched in," she added.
Since she ended the season in the top 40, Lowman has received invitations to compete at Rodeo Houston, the Stockyards Championship Rodeo in Fort Worth, the San Antonio Rodeo and the American.
"Those are some big winter rodeos," Lowman said. "I'm hoping that I'll place at all of them so that I don't have to go to so many rodeos."
With the breakaway event getting equal pay with the other standard events, Lowman said the winner of the event can earn as much as $50,000.
Last year, Lowman was one run away of making the American as she ended up winning the average in the semifinals.
"I came back twice in the semifinals but I didn't draw too good to get to Arlington," Lowman said. "I was too long to get to the American but I did win the average. I was the fastest on two heads and I beat about 500 girls."
With her year-end finish, the Arizona cowgirl will automatically be in the long-go finals at the American, bypassing the qualifying rounds.
"I feel pretty fortunate," she said. "But I'm real amazed with what I did last year. All I had to do was rope one calf but I didn't draw too good."
With the new season set to start soon, Lowman said she's going to hit the road next week for the Sandhills Stock Show & Rodeo in Odessa, Texas.
Fellow Diné breakaway ropers Kassidy Dennison and Bailey Bates will join her there.
"It's pretty cool they got entered," Lowman said. "I'm pretty sure Bailey and Kassidy both want to make the NFR too."
Like her peers, the Arizona cowgirl is hoping that the breakaway event will find a sponsor that will pony up the $1.28 million sponsorship to compete inside the Thomas & Mack Center at this year's NFR.
"We're just waiting to get a sponsor," Lowman said. "That's what's stopping us but if we can get a good sponsor we'll be at the Thomas & Mack."