Three for the money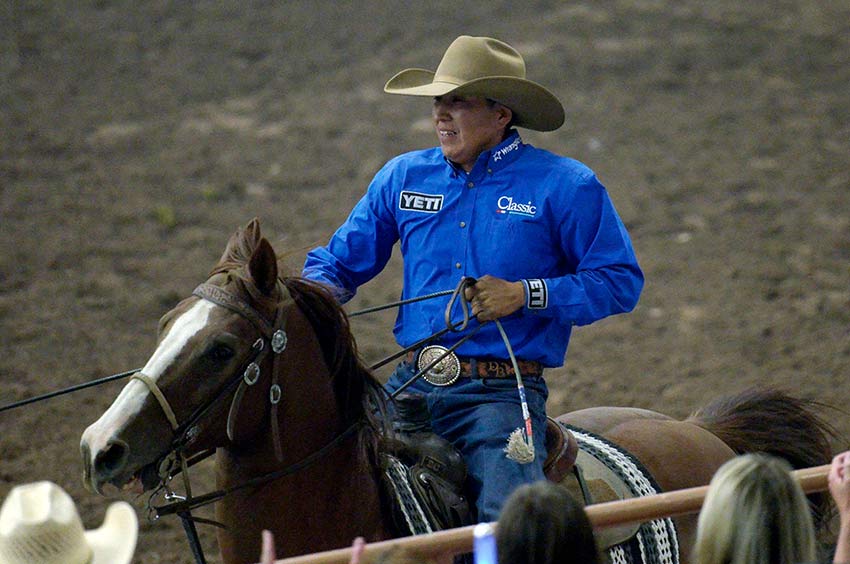 Begay, Tsinigine, Rogers eye the NFR
ALBUQUERQUE
Over the course of the season the imprints they left have been nothing but remarkable.
At different times this past year Diné team ropers Derrick Begay, Aaron Tsinigine and Erich Rogers all but secured their spots for the upcoming Wrangler National Finals Rodeo.
The three cowboys competed last weekend at the New Mexico State Fair with Begay winning first place with PRCA veteran Rich Skelton. They won the event with a 4.0 run, topping 58 other teams and pocketing $4,487 each.
They were both scheduled to rope with other ropers but their partners were not able to make the trip to Albuquerque.
"I had asked Rich to rope with me and that was the first chance I got to rope with him," Begay said. "I didn't want to mess up so I made sure I did my job."
Begay said they drew a good steer and used it.
"I thought we made a good run and obviously everything ran smooth," he said. "I had a good start at the barrier and I roped him fast and Rich stayed aggressive and heeled him fast. I was happy with the way it turned out."
His state fair hauled pushed his total winnings to $81,853, moving him up to No. 9 in the world, the highest among the three cowboys.
Begay, who took a sabbatical from the PRCA ranks two years ago, had not planned on making his eighth trip to the finals but his current roping partner, Cory Petska, had asked him to rope with him for one month.
In July, they wanted to hit as many rodeos as they could in preparation for the big winter rodeos early next year. With so many contestants wanting to get entered in rodeos such as San Antonio, Houston and Fort Worth the rodeo committees based their invitations on what those cowboys did last year.
"Our plan was to rodeo for one month in July so that we can go to those winter rodeos," Begay said.
After being on the road for four straight weeks, they collected $42,000, including $7,000 that did not count in the world standings in Salt Lake City.
"That was the best four weeks I've ever had in my rodeo career," he said. "We drew some good steers. It was one of those deals where things came together at the right time. We made good runs during those four weeks and it kept rolling and rolling."
Tsinigine, who last qualified in 2015, hit his winning streak during the Cowboy Christmas run. By his count Tsinigine amassed over $40,000 in winnings with new heeling partner Trey Yates.
"You can only be down for so long but the one thing that I've been rebuilding is horsepower," the Tuba City roper said.
A week after their Cowboy Christmas, both cowboys won another $19,000 that put Tsinigine over $63,000 in the world standings.
"That was the point I realized that I am going back to the finals," he said.
In his last appearance at the NFR, Tsingine used his trusted horse Smudge during the 10-day rodeo and emerged as the world champion. Six months after gaining all the glory, Smudge went down with an injury.
"I thought he was going to last forever but when it happened it I couldn't pick up the slack," he said. "He's at home right now in the pasture. He's nice and fat and he's not injured so he's getting around pretty good."
With four horses in tow, Tsinigine said he's been able to turn some good steers for Yates. He said he can take those horses anywhere in the country and based on his results they all have performed well.
"The competition is always there and I'm a competitor so all I needed was to get some good horses under me," he said. "That was the first thing I worked on."
With their roping percentage at a high mark, Tsinigine said they fed off of that.
"Our first run was in Reno and he heeled every steer for about a month that I turned," Tsinigine said of Yates. "That was the biggest thing over the summer."
With $81,311 won, Tsinigine is currently holding down the No. 11 spot in the world standings with Rogers taking up the No. 13 slot at $66,531.
Rogers, who recorded a no time in Sunday's performance with partner Clint Summers, was unavailable for comment.
"I think it's pretty much guaranteed," Tsinigine said of Rogers making the finals too.
"The first time we all made it together that was pretty cool," he said. "It's going to be a nice feeling that we're all going again."
---