Third-generation cowboy making headway in junior rodeo circuit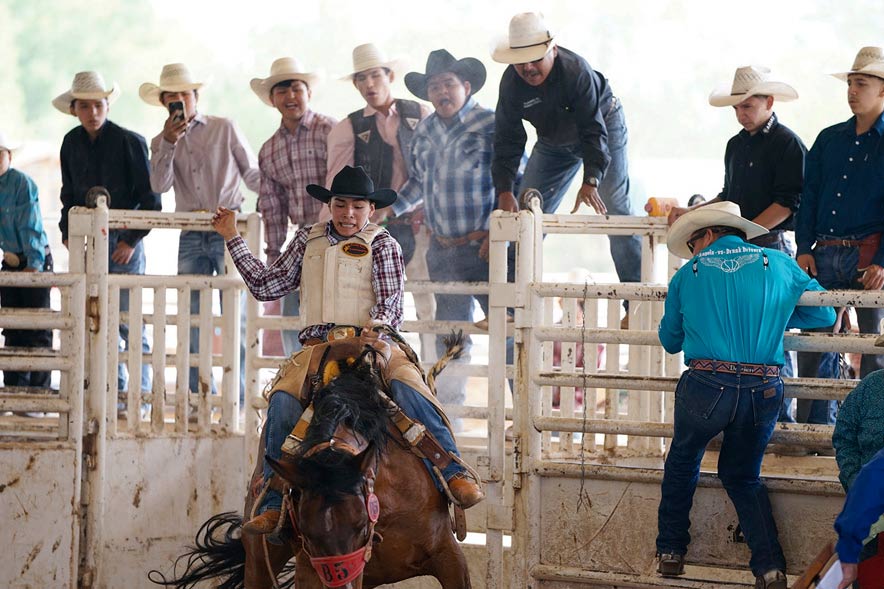 ALBUQUERQUE
It took some time for Trey Vernen Kee to commit himself to the sport of rodeo.
The 17 year-old cowboy has been on the rodeo trail since last summer and he credits his family roots for sparking his interest to be a saddle bronc rider.
"I heard that my late nálí was a saddle bronc champ for the first Navajo Nation Fair," the Cornfields, Arizona cowboy said of his paternal grandfather Nelson Kee Sr.
The third-generation cowboy said his late nálí passed away when he was five-years old and since then his father, Jay Vernen Kee, has been a huge influence.
"With my dad being a former rider, it made me want to get better," he said. "My family is always supporting me, so it gives me that extra confidence I need."
The elder Kee said he's happy that his sons are following in his footsteps as Trey's younger brother, Jhett Vernen Kee, is also getting his feet wet.
"I'm a proud dad that they're getting into this," the patriarch said.
Back in his days, Jay was an accomplished rider having placed in the top 5 during the 1998 Indian National Finals Rodeo.
He was the rookie and year-end champ for the Navajo Nation Rodeo Cowboy Association and the Central Navajo Rodeo Association.
He also won a world title in the All-Indian Professional Rodeo, which covered Arizona and New Mexico.
The elder Kee said he wants nothing but the best for his two sons. He wants them to take their riding a bit further than what he accomplished.
"They've learning a lot and they just need to keep this going," he said.
The two siblings took part of last Saturday's Kubs Junior Rodeo in Albuquerque. The rodeo was the second stop and third rodeo of the Indian Junior Rodeo Association.
Trey took first with a 72-point ride and finished ahead of Názlini, Arizona cowboy Lorenzo Benally who finished with 66 points.
"I kind of fell behind a little bit on my horse, but he bucked pretty nice," Trey said of Muddy Gap.
Before calling out for his ride, the Ganado High junior was anticipating his horse to jump out of the bucking chutes.
"I already knew he was going to do that," Trey said of his horse. "I drew him a few months ago and he did the exact same thing. He was kind of squatting in there and when I called him I had to hold my feet up for the mark out."
Unofficially, Trey is leading the standings in the IJRA race as he as accumulated 30 points so far. Earlier this month, he won both days during the Membership Drive Rodeo in Grants, New Mexico.
"I want to try and win every award they have," Trey said.
As for his competition, the young cowboy expects Benally to give him a challenge for the IJRA and the Western Junior Rodeo Association year-end title.
"I like the competition," Trey said. "We have like nine, 10 riders and it's basically the same guys that compete in the IJRA and WJRA rodeos. The competition is up there and it's my job to make sure I ride as good as I can."
In addition to the junior rodeo circuits, Trey is also a member in the CNRA and the INFR.
In the INFR, Trey is currently holding down the No. 11 spot, having placed fourth at the Mt. Turnbull Rodeo in Bylas, Arizona two months ago.
On Saturday night, he's scheduled to ride in the K.E.Y. Ranch INFR Tour Rodeo at the Vermillion Cliffs Arena in Page.
"I'm just trying to ride anywhere I can," he said. "I plan on doing this for the next two years and after that I'm going to hit the PRCA."
---