NMAA state tennis, Navajo girls finish as reserve champs in doubles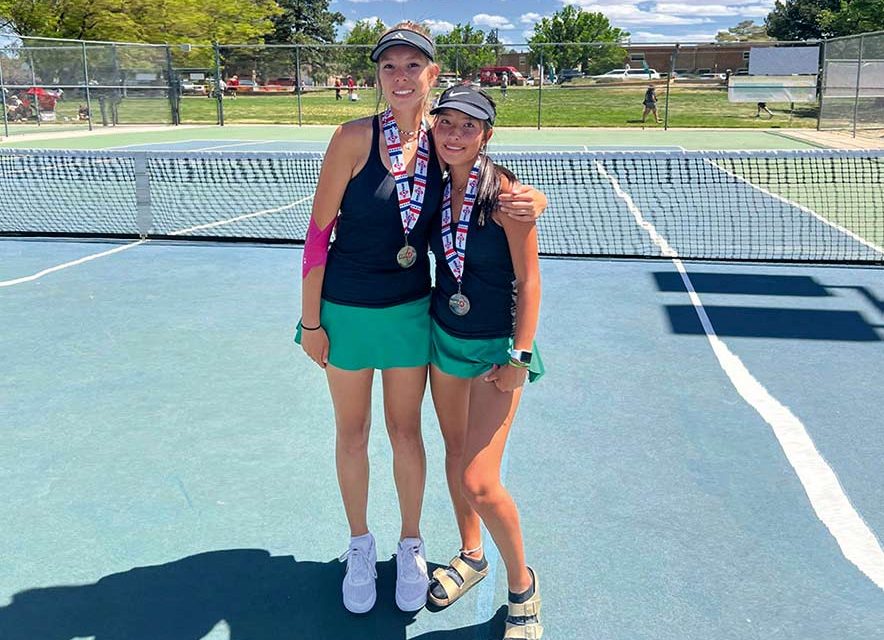 WINDOW ROCK
Farmington High tennis players Marley Deswood and Naomi Beck earned some hardware at the NMAA State Tennis Championships earlier this month.
The two Diné players weathered two days of competition and ended up as the doubles reserve champions in Class 5A, dropping its final match 6-3, 6-3 to La Cueva High.
Despite the loss, the girls took it in good grace, saying it was still a good way to cap their season.
"It was very challenging," Deswood said. "We had to play La Cueva in the finals, so it's always gonna be a hard match."
This was Deswood's second time at state; her first was last year when she was in eighth grade where she also came in runner up in doubles.
Deswood feels confident that her abilities will continue to improve as she keeps practicing, perfecting her repetition and hitting.
She has been playing tennis since the sixth grade, finding it enjoyable to be out on the court and landing hits. Her coach also makes the sport fun and continues to encourage her to do her best. She also believes tennis helps her to grow mentally, saying it takes a lot of focus to play the game.
This season she was partnered with Naomi Beck. Both girls played in tennis tournaments together during the offseason and then during the season they'd stay late after team practice to perfect their hitting. They said the practice and their level of communications is what helped them get to state.
If they noticed a fault in the other's performance, they would tell them. And if one were having a bad day, the other would bring their spirits back up, maintaining high morale as they competed through the season.
In the lead up to state, one of their vital matches was against Eldorado High, one of the best tennis teams in the division. Though it was an intense match, they prevailed, and the win moved them further up into the seeding and secured their place at state.
The championship was held in Albuquerque at the Jerry Cline Tennis Facility from May 3 to 4.
The girls played close games after close games, winning three games in the tournament before reaching the finals against La Cueva.
"I feel like definitely in the coming years I'll be able to win a state championship," Deswood said.
For Beck, this was her last season competing for Farmington High as she had recently graduated.
"It was a lot of fun," Beck said. "We both played really well and we both worked really hard to get to where we were, even though our competition was really tough."
She was proud of their performance, especially during district earlier when they were able to defeat Eldorado and La Cueva before state. Upsetting the two top tennis teams in their division is something she will remember.
With this being her last year, Beck put in the effort and to reach her best as she spent extra time in practice and maintaining a positive mindset.
She also made sure to have fun with her friends, saying despite it being a challenging season, it was probably the most fun year she ever had on the team.
In addition, she was also the team captain this year; she set the example for them and pushed them, believing in their potential.
"I really wanted to push the girls to get to state and then advancing to the finals and be runners up in state was just a big accomplishment for all of us and I couldn't be more proud," Beck said.
All of that hard work and landing as the No. 2 team in 5A made it all worth it, she said.
Beck has been playing tennis since the sixth grade, nearly seven years now. She enjoys the sport because of the challenge it presented. You never know, an athlete may be doing well at the start of a set and then the opponent will suddenly jump ahead. Those difficulties and fighting for the win is what she loves about tennis, getting the victory in the end makes the feeling even better.
She also believes tennis helped strengthen both her body and mind. It gives a never-quit attitude that helps her to focus, not only in sports but also other aspects in life. It also helped her to stay fit, as she needed to maintain a strong body to be able to compete.
Although La Cueva won by two sets, Beck assures the scores doesn't fully reflect the effort she and Deswood put into the match.
Still, she had fun and thanks her teammates for a fun last year.
The girls were the only female competitors from Farmington High to make it into state.
On the boys side though, Farmington's Charles Briones and Connor Clark were state qualifiers and were runner up for the boys' doubles in the 5A Division as well.
They too lost to La Cueva who took the crown for both the boys and girls doubles event.
Eldorado High meanwhile won the singles championships in both boys and girls events.
Both Deswood and Beck give thanks to their families for their love and support and to their coaches who pushed them and made the sport fun for them.
They also said it was their honor to represent the Navajo Nation at the championships.
"I wish that tennis was available on the Rez, it has brought me so much joy and determination to be a better player," Beck said.
"I wish that everyone could experience it, but I am very happy to represent the Diné in tennis."
---