Arizona Division IV Championships: Five area athletes earn medals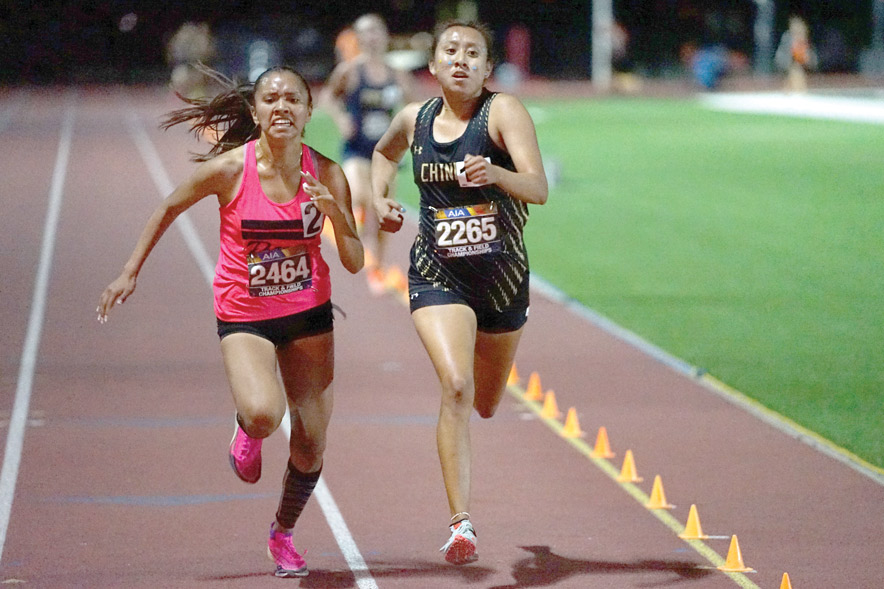 MESA
The final day of the Arizona Division IV Championships produced five area medalists.
Page junior distance runner Jade Reid heads that list by taking home silver in the girls 3200-meter run.
Reid leaned in and edged Chinle senior Temyra Bia for second place. The Page runner crossed the finish line at 11:27.47 while Bia was clocked in at 11:27.51.
"I was really focused on this race because I didn't do so well in my mile," said Reid, who placed sixth overall in the 1600 the day before.
Other top finishers include a third-place effort from Page junior Sofia Cambridge in the open 400, while Winslow senior Seth Matrecito and Page senior Quentin Davis placed fourth.
Reid said she was disappointed with her finish in the mile on Friday, so she wanted to give it her all in the two-mile race. 
"I knew I could make it up, so I was like, 'I need to give it my best effort,'" she said.
Bia earned her second podium appearance as she placed second in the 1600 on the first day of the two-day meet.
"It feels good, knowing that I'm a senior and this was my last year to do this," Bia said. "I'm just happy to represent Chinle and Navajo Nation. I'm just showing that all these small rez schools can do out here."
In the boys discus, Matrecito improved his personal best by 3 feet, 5 inches by hurling the disc 146-05.
"It was the environment mostly," the Winslow thrower said of hitting that new PR. "Anytime there's a really big competition, you got get yourself in the right mindset.
"Once I got it up there, I felt comfortable, and it ended up being a PR, so everything paid off," he added.
Davis took fourth in the boys 800 with a time of 1:58.76 for his only podium appearance. 
"It felt really good because I didn't get on the podium for my mile, two-mile, and 4×800," Davis said. "I felt good to get a medal in the 800."
In the 1600, he took fifth, seventh in the 3200, and sixth in the 4×800 relay team.
Cambridge finished her 400-meter race in 1:00.33, behind state champ Danielle Graham of Chino Valley and Pusch Ridge's Cami Kohl.
"My start was good," the Page sprinter said. "It's probably one of my best starts ever."
Pick up Thursday's Navajo Times for a more in-depth story.
---