Chinle, Page runners place second at division track meet: Wildcat sprinter makes finals in 3 events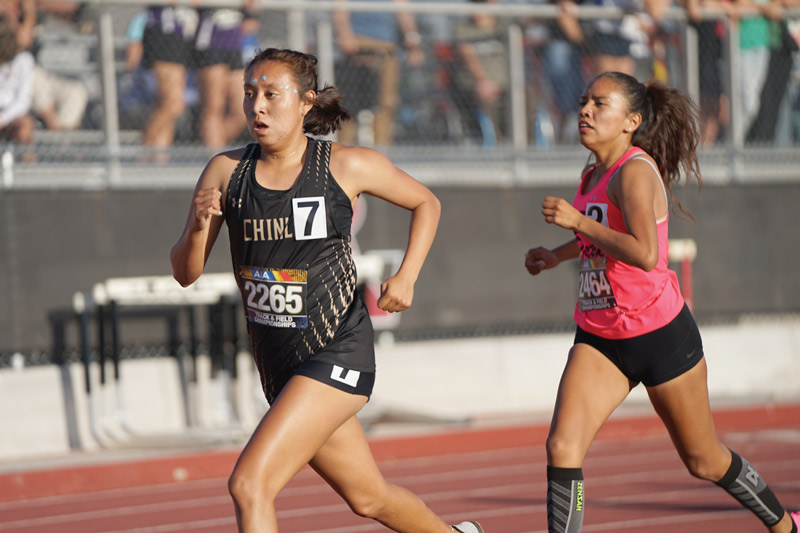 MESA
Chinle senior Temyra Bia and Page freshman Symond Martin were the area's top finishers on the opening day of the Arizona Division IV Championships.
The two-day track meet will conclude today with 25 finals at Red Mountain High School in Mesa, Arizona.
On Friday, 11 finals were held, with Martin and Bia taking second in their respective races.
Martin lost the state title by a mere 2.17 seconds in the boys 3200-meter race to Pusch Ridge junior Myles Floyd.
Floyd was clocked in at 9:34.63, while the Page freshman clocked in at 9:34.63.
At 9:37.55, Ganado senior Micah Slivers took bronze.
In the girls 1600, Bia posted a time of 5:13.90 and finished as the reserve champion to Valley Christian's Lauren Ping, who ran a 4:59.88.
"It feels good, and I knew that I had to get out because they were a lot of fast runners in this race," said Bia, who was seeded seventh in the race. "I just had got to get out fast."
In the prelims, Chinle junior Sincere Tso earned qualifications for today's finals in the open 100, 200, and 400.
On Friday, he placed sixth in all those races by posting times of 11.21 in the 100, 23.03 in the 200, and 51.48 in the 400.
"I got to save myself for (Saturday)," Tso said. "I just wanted to make the finals and earn a spot for the state meet next week."
Tso said he's been doing sprints since junior high, and this past year he's improved by leaps and bounds.
"I'm kind of shocked with how much I've improved," Tso said. "I would never have thought to make sectionals and be seeded this high."
Chinle track coach Brian Begay wasn't surprised by his results since he's taken his sprint training to another level.
"There's a lot of growth in him, and you can see it," Begay said. "I think last year he was getting his feet wet, and this year he really wanted to focus on his sprinting.
"He already knew what to work on and what to build on," he added. "Coming off last year, you could tell he was focused, and he wanted to make state and run here."
---