Gold eludes Holiday but he brings home two seconds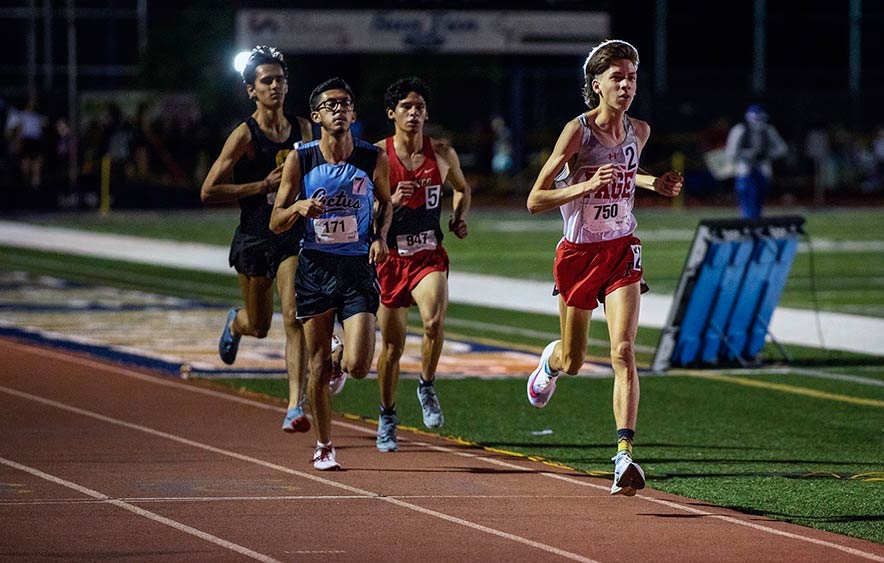 PHOENIX
In his final state track meet, Trent Holiday medaled twice as the Page senior finished with a pair of second places.
Holiday took silver in both the 800- and 1600-meter run at Desert Vista High School on Friday at the Arizona Division III state track meet.
"Coming into the race my goal was to come in first but sometimes things don't work out like the way you want them to," he said. "Life moves on and I'm just happy that I took second and I'm OK with that."
In both of his events, Holiday established new PRs as he finished the 1600 meters in 4:18.76 and in the 800 he recorded a 1:58.55.
"He went out and did what he needed to do," Page coach Brandon Dugi said of his ace runner. "Having two back-to-back second-place finishes, you can't get any better than that. It would have been nice for him to get first in both, but there's some really tough kids out there that he was running up against that wanted just as much as he wanted it."
In his first race, Holiday couldn't overcome the slight lead that Cactus High's Gilbert Olivas had over him. Olivas won the race in 4:16.06, which was 2.7 seconds faster than Holiday.
"At the very end I tried to hang on and do my best," he said. "He had a little lead against me and at the straightaway I tried to do my best in catching him. If I had a little bit more track time I knew that I would have caught him."
In another tight race, Holiday lost the 800-meter title to St. Mary's Pierce Vittone. Vittone won the race in 1:55.41 while Holiday was a few steps back at 1:58.55.
"After I ran that mile, I was drained and I was tired," the Page runner said.
And although he was feeling tired, Holiday said his strong mindset helped him overcome his fatigue as he made Vittone work for his gold medal.
"I tried to pass him," Holiday said. "I was able to keep up with him until the last 200 meters and he broke away from me, but I stayed strong and I finished with a new PR."
On Saturday, Holiday opted out of competing as he made the decision to take part in his graduation. Earlier this year he recorded the 16th best time in the 3200-meter run, which would have earned him a spot at the starting lineup.
He also qualified as a member of the 4×800 relay team but he said he wanted to walk with his classmates.
"If graduation were held at another time I would have completed my other races," Holiday said. "Like I said, sometimes things don't work out. I don't have any regrets. It's a choice that I made for myself and I wanted to take part in my graduation."
In addition to Holiday, Dugi said another member of the 4×800 team "wanted to walk" as other members of the Page track team had to fill in.
The relay team of Gavyn Begay, Shayden Begay, Trevor Walker and Cody Slim placed 16th overall with a time of 9:11.30.
"We ran some younger kids and it was good that they ran that race," Dugi said. "They got to see what it's like to run against fast kids. If anything, they gained some experience and it will only make them better, stronger and getting them to work harder for next year."
On Saturday, the Sand Devils also had two runners compete in the 3200 meters with senior Rex Martin (9:33.21) placing sixth and junior Hunter Jensen (10:31.63) copping 17th place honors.
"There were some kids in that race that were studs," Dugi said. "The field for the two-mile race was stacked. Along with Rex you had three or four other runners that ran fast times."
Going into the state meet, Martin was seeded second and he held that position for a good part of the race until the final two laps.
"When it came to the two-mile they pushed the pace," Dugi said. "Rex was in the lead pack for the first half and with it being his senior year he wanted to do better. He was a little disappointed but he was OK accepting that."
In the girls meet, senior Sofia Cambridge took 13th as she cleared 4-10 in the high jump while freshman Jade Reid placed 11th in the 3200-meter run with a time of 12:20.52.
"That field was super intense," Dugi said of the girls' 3200 meters. "I mean you got the cross country champion (Salpointe Catholic's Kylie Wild) that won the mile and she ended up winning the two-mile.
"Jade was hyped up to run with her and she threw it all out there," he continued. "She did her best and as a freshman she ran a really good time, and I think she PR'ed by 22 seconds."
---