'It's just frustrating': Cross-country coaches face restrictions, limits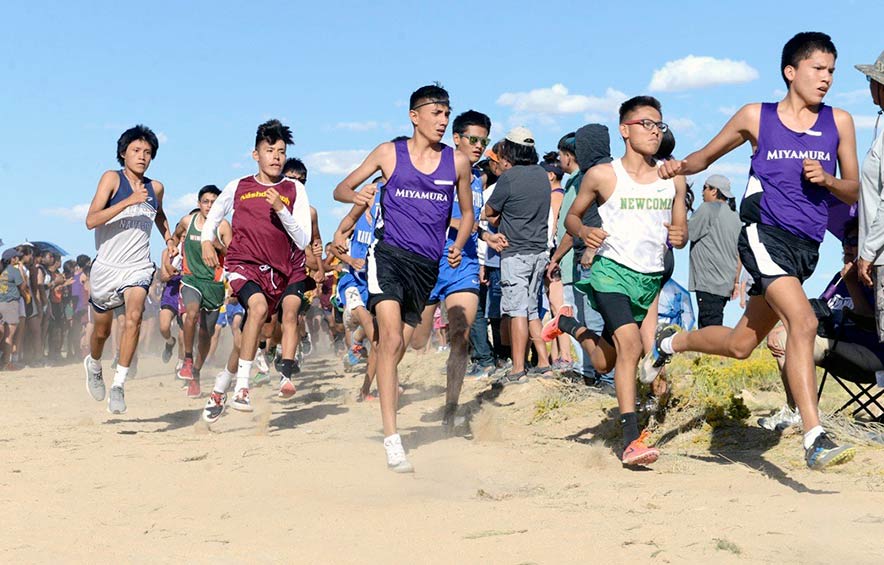 WINDOW ROCK
The tentative start for the 2020 New Mexico cross-country season is set to begin on Oct. 5 with some stipulations.
Due to the ongoing COVID-19 pandemic, cross-country meets are limited to 100 people per event so each host will need to limit the number of teams participating.
"With five schools that would give me 70 runners," longtime Tohatchi coach Fern Spencer said.
And if you factor in the coaches, workers and bus drivers, Spencer deduced that they would stay under the 100-person threshold.
Of course, that depends on whether Spencer will host this year's Nashdoitsoh Invitational at Hamburger Hill, on the outskirts of Tohatchi.
Last year's annual event had 14 high school teams and nine middle school groups.
"It was nice seeing everybody last year and I think a lot of people had fun," she said. "It was something. Of course, it takes it takes a lot work and it takes a lot of people to run it, but it all came together and it paid off.
"It's just frustrating because you want it to grow every year, have it bigger and better," she added. "It's unfortunate that this had to happen."
Besides the stipulations set by the New Mexico Activities Association, Spencer said they also have to abide by the Navajo Nation stay-at-home orders.
"We're usually the first school to host a meet but I'm not sure if we can host one this year," she said.
And if they can host their annual meet, Spencer said she would need more manpower from central office to ward off would-be spectators, who are not allowed to watch per the NMAA.
Spencer said she asked the district's athletic director, David Gibbons, on whether it was feasible to supply enough security personnel to keep spectators out.
"He didn't give me an answer," she said.
"Of course, they're going to use the back roads," Spencer said of the would-be violators. "They know our area and when you're running a meet we can't stop them if they're on the course."
For the schools that will be hosting a meet this season, they are required to have restrooms in place and they would need to be sanitized after each use.
"That's another rule we need to follow," the Tohatchi coach said.
Despite the dilemma she's facing, Spencer said there are some alternatives being proposed with Rehoboth athletic director Adrian Pete offering to host Tohatchi's meet on their home course.
"If we're going to do that we'll have to pay a fee to use Rehoboth's facility," she said.
With Gallup High planning on using the facility at Rehoboth, Spencer said she's worried about the monotony of running the same course over and over.
"I'm grateful that the facility at Rehoboth will be available but going there weekend after weekend, it's going to get old," she said. "That's why I'm wondering if Wingate is going to have a meet or if I can go to other places like Laguna-Acoma or Santa Fe Indian School."
But with restrictions in place, Spencer said she's not sure it the latter schools will extend her an invitation.
"We're kind in a loop right now," she said. "We really can't do anything until we figure out who's going to have a meet."
Per the New Mexico governor, masks or face shields are now required for all runners. According to the NMAA, the masks cannot be removed during competition.
"We sent out individual workouts for our kids and I told them that they needed to wear it now so that they can get used to it," Spencer said. "We just have to be safer and follow all the rules if we want to keep our sport going."
---