Page girls, boys capture Division III cross-country state championship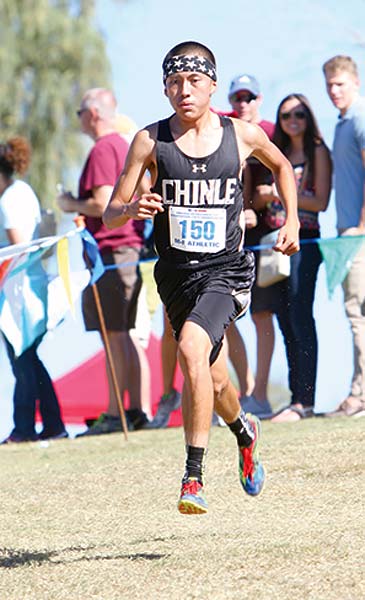 PHOENIX
Page girls and boys teams and Chinle junior Santiago Hardy ran smart races en route to earning the Arizona Division III State Championship at Cave Creek Golf Course in northwest Phoenix last Saturday under ideal racing conditions.
The Page girls netted 64 points, well ahead of state runner-up Window Rock, who tallied 110 points. The Page boys' squad chalked up 61 points, edging Chinle, who scored 65 points for second place.
Wildcats' Hardy turned in a stellar individual performance, while nailing down the state crown. Hardy toured the 5000-meter course in 15:58.
Since 2001, Page girls' teams have won three state titles, while the boys' squads have garnered two state crowns.
Page head coach MacArthur Lane said he was very pleased with the Lady Sand Devils' overall effort. He said, however, a few of the girls would say they didn't have their best performance on Championship Saturday.
"That is how racing is and for that same reason, each team member toes the line in hopes of upsetting the favorites. I am very grateful for each kid and their belief in the team and their own self. We proved that we are strong enough and have the depth to overcome any speed bumps."
Lane said the boys' team proved to be overachievers this year. He said no matter the obstacle, the Sand Devils believed in each other and believed in the program.
"It sure was a learning process for them to go through," he said. "I think we have only seen the tip of the iceberg with the boys' team. We could not have asked for a better team performance from this group."
The Sand Devils placed three runners in the top eight positions. Justin Billy crossed the finish line in fifth place, turning in a 16:44. Allen Fowler clocked in 16:47 for seventh place. Dorian Daw settled for eighth place with a 16:47.
Bowen Martin finished 19th place, negotiating the terrain in 17:13. The Sand Devils' fifth runner was Caley Sandoval, garnering 24th place with a 17:19 time.
"In order for us to even have a slight chance of winning, we needed three guys to finish in the top 10," Lane said. "They were able to run as a pack and push each other throughout the entire race. Once again, outstanding job by all."
---