Thomas overcomes shyness to become state champ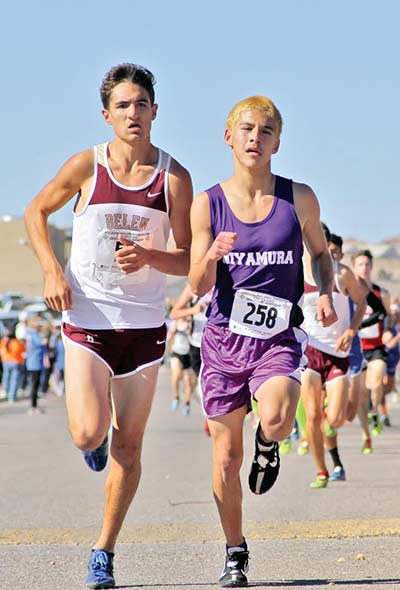 FRUITLAND, N.M.
About three years ago, Niles Thomas sat in his mother's car outside of Gallup's Public School Stadium begging to go home instead of meeting the Miyamura track and field team.
Still a young eighth-grade student, Thomas was shy and unsure of his abilities as a runner.
But last Saturday, on Nov. 8, the once uncertain runner became a Class 5A cross-country state champion.
"It was just a good feeling, if you achieve something great other people will follow you and they end up looking up to you," he said. "It feels good to make an impact on my school not only to place first at state but to bring home a third-place trophy."
Thomas led the team to the third-place finish, defeating District 1-5A rivals Piedra Vista by two points.
While his team was excited about their victory, they were even more ecstatic for Thomas' history-making win.
As he approached the finish line for a time of 15:33.40, his mother, Laura Ortega-Thomas, said she thought of that day at she took him to meet the high school team.
"He's very shy. When I took him to the stadium he said he didn't want to go," she said. "After he started running he said, 'I really like running mom, this is what I'm going to do.'
"I was just so emotional (at the state meet) and so happy for him it was just the best day ever," she said.