Upshaw, St. Micheal win state championship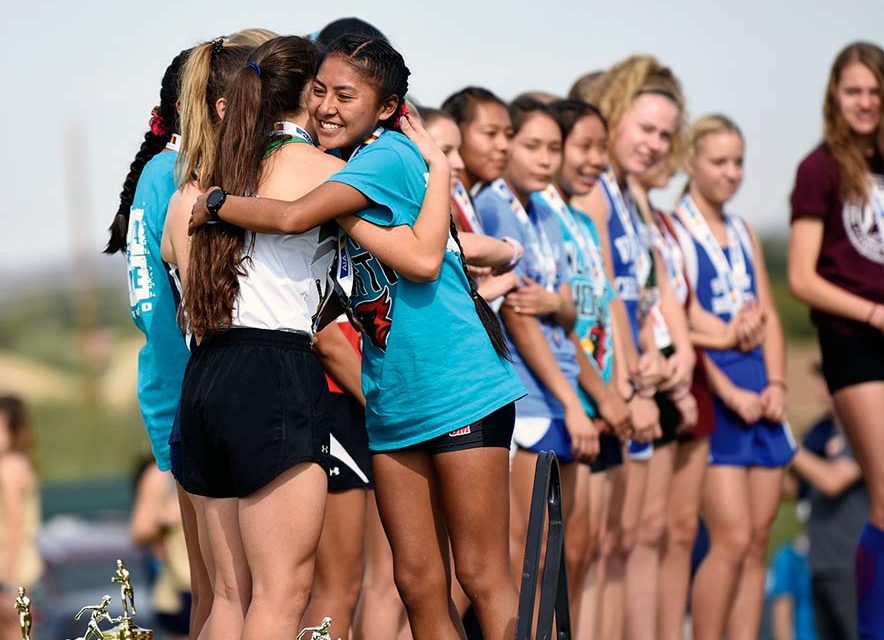 PHOENIX
The individual and team titles at the Arizona Division IV girls' cross-country state championship were never much in doubt for St. Michael senior Ali Upshaw and her teammates.
Upshaw turned in a dominating performance last Saturday in the 5K-race at the Cave Creek Golf Course in north Phoenix. She posted a blistering time of 17 minutes, 49.5 seconds as she defended her state title.
"With it being my senior year I wanted to get into the 17s," Upshaw said. "I think a lot of that was me pushing myself up in the front."
Upshaw won the race fairly easily with reserve champion Grace Tipton of North Phoenix Prep clocking in at 19:17.5, which was one minute and 28 seconds slower than the St. Michael runner.
"A lot of that has to do with ambition," Upshaw said. "I love running and I really love the sport. As the season went on I just wanted more of that for myself."
As a team, the Lady Cardinals had its five scoring members place in the top 22 as they repeated as champions with a team score of 37 points.
"They went out there and did what we asked them to do," St. Michael coach Kelly Bia said of her team. "They clinched it so it was a really good day for us."
As for her Upshaw's feat, Bia said her daughter put in the work to be one of Arizona's top harriers. Her performance was the second best time turned last Saturday with Division I runner Lauren Ping turning in a 17:36.9.
"Ali is just a special person," Upshaw said while trying to hold back tears. "She did awesome and I'm glad it ended with another state title. It just shows how much work she put in this year and I'm just so proud of her."
En route to the team title, the Cardinals had four runners earn state medals with the AIA awarding the top 21 finishers hardware at the conclusion of the state meet.
In addition to Upshaw, St. Michael also had freshman Amber Woody, junior Chiara Holgate and freshman Nizhoniibaa Phillips take home a medal.
Woody (20:00.4) placed fourth while Holgate (20:16.6) took sixth and Phillips (21:05.4) placed 15th.
"Our team goal was to stay together and get our times down," Woody said. "We were trying to shoot for that and I think we did that. We just pushed ourselves and we did our really best."
Holgate said winning the state title again was a true blessing.
"Last year when we won it was kind of a surprise for us," she said. "We were the favorites but we came into this as the underdogs. We didn't tell ourselves that we won this – we had to fight for it."
With Upshaw being a dominant force, Holgate said the emphasis in last Saturday's race was working on the pack time between the No. 2 and 7 runners.
"It's really hard to stay up there and keep Ali in our sights but our goal was to stay within one minute of each other," she said.
The Cardinals were a tad off as junior Ashley Phillips (21:25.2), junior Auri Quintana (21:42.1) and senior Cameron Nelson (22:09.2) covered the spread by over two minutes with Ashley (22nd) being one placement short of earning a medal.
"They all ran awesome," Bia said. "Chiara and Amber were right up there and the Phillips girls ran tough. Ashley has always been our solid fifth runner.
"I always tell her that and she's critical to where we finish as a team," she added. "Today she was off by one tenth of a second of medaling."
And while they were expected to win the state crown, Bia downplayed that notion. She said they had to work hard for it and their progression was a few years in the making.
"I think it takes a good three years to build a solid program," she said. "You can try and push them and push them at the beginning but you have to see who's still with you by the end of the season."
Bia said you could lose runners to injuries but the main culprit, she feels, is the toughness of the sport.
"The best way to get around that is offseason training," she said. "It's the best way to rebuild because it's hard to play catch up when you start to train in the month of July."
In other words, she said it takes time and that's what she's been stressing to them for the past few seasons.
"I told them that to be a state champion you have to do these things real early," she said. "They've been doing that and lo and behold look at where we're at."
---