Pine Hill battles top seeds at state tourney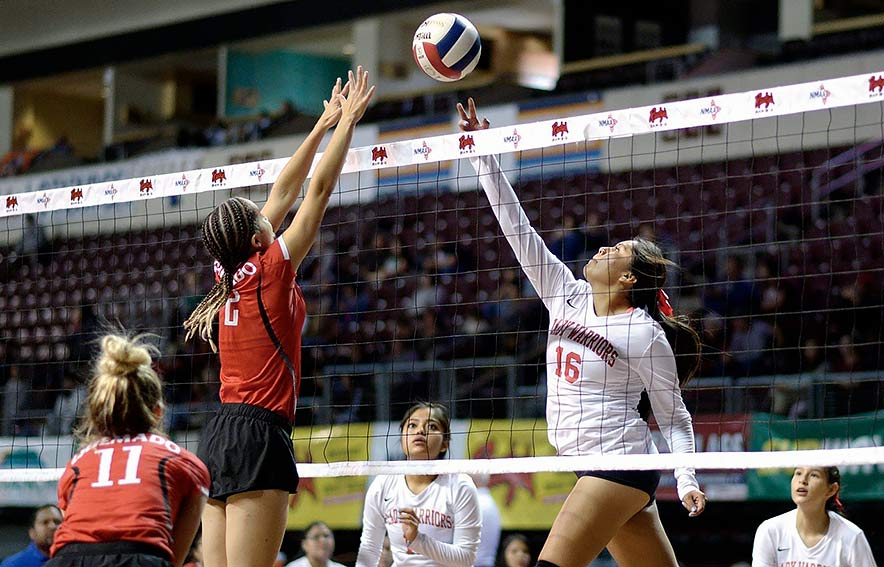 By Michael Peretti
Special to the Times
RIO RANCHO, N.M.
The Pine Hill Lady Warriors found out just how tough state tournament competition is as they fell to the No. 1 and No. 2 seeds Friday and Saturday in Rio Rancho.
"I thought we competed well," Ramah head coach Carlett Daniels said. "There are some tough teams, but to make it to the Final Four, I am happy."
Daniels said that the Lady Warriors, who were making their third straight appearance at the state tournament, surprised a few teams and the crowd did not know what to think.
"We had the crowds of the other team's kind of rocked," he said.
The Lady Warriors won their first match, but fell to Logan in three, 25-20, 25-19 and 25-19.
That set up their Final Four match against top seeded Melrose, which they lost in three games to end their season.
Against Logan, Pine Hill battled in the first set with the two teams exchanging leads throughout until Jiovanni Pino served three points to put Pine Hill on top, 15-12.
Logan tied the game at 18 and took a 19-18 lead with a point from Julianna Garcia but a serving ever error give the ball back to Pine Hill.
Karli Webb scored a kill and then a block for two points and then Jordan Hines scored a kill on a serve from Webb to get Logan closer to the win with an ace giving them the first set.
Logan pulled ahead in the second set with a kill from Kelesha Shields and an ace from Webb to take an 11-8 lead.
Kyra Conway served two more points to put Logan on top 14-10 and Adrienne Stone served three points with kills from Webb and Shields as Logan pulled ahead 21-14.
Garcia served an ace and two more points as Logan took the second set.
With the score tied 10-10 in the third step Pino served a point to put Pine Hill ahead but Logan came right back with a kill from Hines and a point from Karlee Cantrellto take the lead.
They would not trail again as Hines served an ace and Kyndall Ragland served two more with one ace to push to a 17-13 lead.
Logan held on to take the third match and put Pine Hill in the game against No. 1 Melrose, who on Saturday ended the Warriors season.
"Against Melrose we had too many errors," Daniels said." They just started to add up. I think we matched up well with them though."
Pine Hill loses five seniors, three that were starters.
"I think we potentially have another state bound team," Daniels said. "This season we did a lot of great things, and to go 22-3 and be district champions, I am happy with the performance of all the girls. We will miss our seniors, but this season we had a great experience."
---