Tuba City netters earn No. 2 seed in 3A state bracket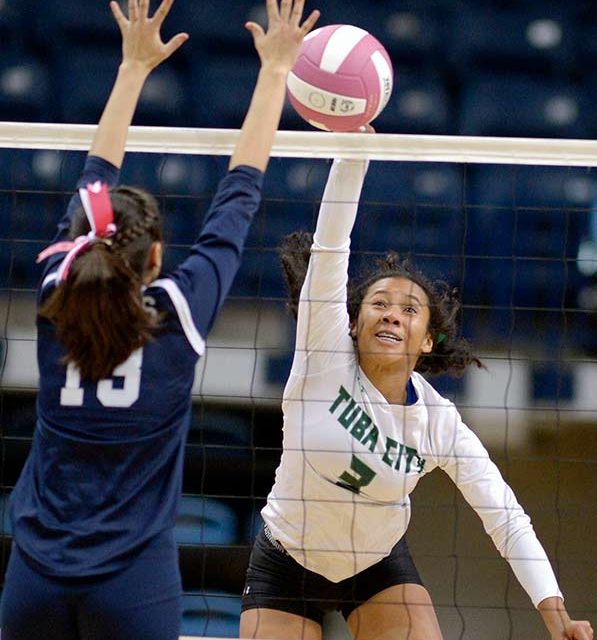 WINDOW ROCK
With a 28-4 overall record, the Tuba City Lady Warriors were given the No. 2 seed for this year's Arizona 3A state volleyball tournament.
Last Saturday the Warriors captured the 3A North Region title by beating Page in straight sets at Monument Valley High.
Tuba City is seeded behind No. 1 Snowflake as the Lady Lobos enter this year's tournament with a 31-9 record, which includes regular season tournament games.
"I wasn't too sure what seed we were going to get because I know that we didn't have as many games as Snowflake and Northwest Christian," Tuba City coach Harlan Barlow said.
Phoenix Northwest Christian took the No. 3 seed (32-6) ahead of Blue Ridge, AZ College Prep, Fountain Hills, Tanque Verde and Monument Valley. The top 8 teams received a bye.
In Tuesday's conference play-In game, Chinle, Holbrook, Ganado, Page and Window Rock were eliminated.
Barlow said winning both the regional tournament and the regular season crown is something they have been working for.
"Our goal was to win the region and the tournament so that we could get a good seed for the state tournament," he said. "They accomplishment both of our goals and that's awesome."
Barlow said his team is peaking at the right time to make a run deep into the state playoffs.
"We getting better every game," he said. "I'm pretty confident in our team and I believed that we've worked hard all season long based on our record. Of course, we need to take the tournament one point at a time and enjoy the tournament."
The Warriors are on the bottom half of the bracket as they open play with No. 15 Tucson Pusch Ridge at 1 p.m. at Camelback High School in Phoenix on Friday.
Monument Valley, meanwhile, is on the opposite side of the bracket as they take on No. 9 seed Odyssey Institute at 3 p.m. also at Camelback on Friday.
By earning the No. 8 seed, Monument Valley coach Rennell Gilmore said having one of the higher seeds allowed her team to work out the kinks in practice earlier this week.
"We're going to hope for the best," she said. "The regular season is over and now were in the postseason. Hopefully things can fall into place."
Despite graduating eight seniors last season, Gilmore said she wasn't surprised with her team earning the No. 8 seed.
"Our schedule was pretty tough," she said. "We played a lot of tough teams throughout the season. It challenged our team a lot and we knew we had a lot to overcome the dominant senior team we had last year.
---