Many Farms sophomore places second at Joe City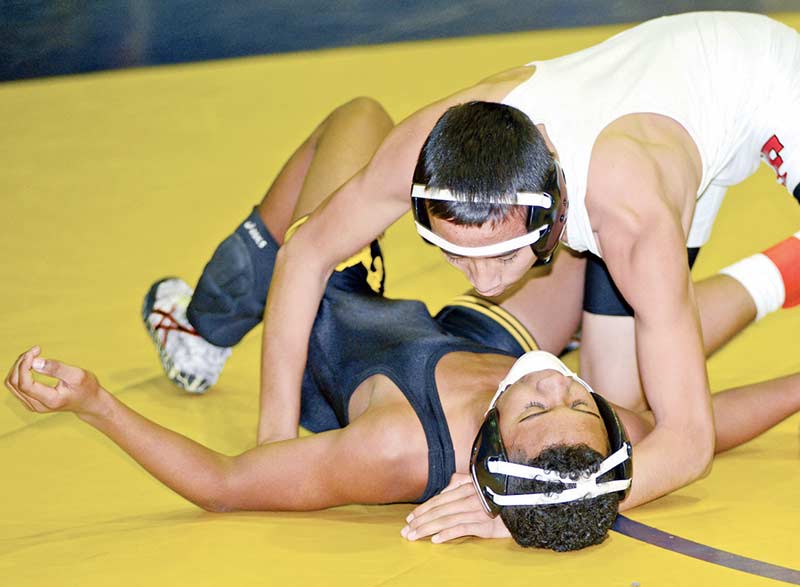 JOSEPH CITY, Ariz.
With a under month left before the all-important sectional meet, six local school got a chance to test themselves at the 44th annual Joseph Invitational wrestling tournament over the weekend.
Greyhills, Many Farms, Hopi, Pinon, Red Mesa and Shonto Prep took part in the 23-team meet that featured six teams in four pool pods with the top two wrestlers in each weight class advancing into the bracket portion of the tournament.
Many Farms sophomore Rodrick Begay was the only local wrestler to make the finals in his weight class as he recorded five pins.
But in the championship round of 120-pound weight class, he lost the match after he was pinned by Arizona Lutheran wrestler Tanner Borneman.
"I gave it my all but I learned a lot about myself," Begay said. "I mostly have the basics down, the stuff that will get me some points, but I need to do some strength building."
Despite his best effort, Begay said he was overpowered in his final match against a more experienced wrestler.
"Most of us guys here on the rez wrestle for four months out of the year," he said. "And the guy that I wrestled probably does it year round."
Many Farms assistant coach Ambrose Yazzie said Begay wrestled well and even though he came up on the short end he can learn from this.
"This was a good measuring stick for him," Yazzie said. "He's going to see that kind of competition at the state level and by wrestling a guy like (Borneman) he's only going to get better."