'On a mission'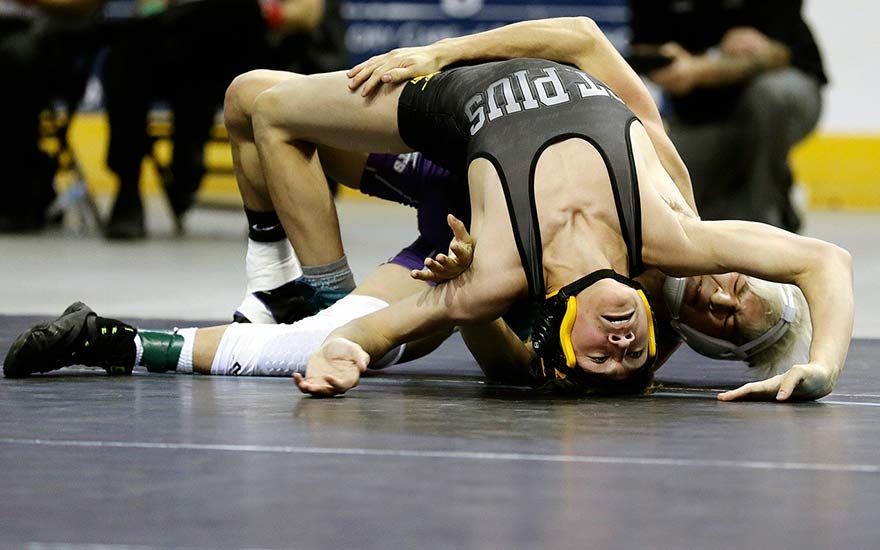 Miyamura wrestler bounces back from sidelines, fights to state title
RIO RANCHO
Drake Guerrero had to make a choice just before Christmas: give in to to his injury or fight through it.
The Miyamura High School junior wrestler at 120 pounds chose the latter.
Guerrero injured his right ankle just before the Christmas break and was sidelined for over a month, but managed to fight on and earned himself a New Mexico high school state wrestling state title after defeating St. Pius X wrestler Matthew Sanchez by an 8-4 decision.
Guerrero said it was the ultimate goal that he didn't realize he had.
"I knew I had to work twice as hard because I had a bad ankle. I knew everything had to be at the top of my game," he said. "I just wanted to end the season with a win at least. I didn't really think about being state champ."
Guerrero finished last season in fourth place, and lost to his semi-final opponent from Valencia.
He said the loss last season motivated him, as well as the redemption he got over the Valencia opponent in the semifinal round.
He added that he started thinking it might be possible to win the state title if he could beat the person who beat him last season.
"It started going through my head at the beginning of the first day when I had to wrestle Valencia," he said. "It was during that match, halfway through, when I got my escape … the score was really close, and I knew I had gotten better."
Guerrero started wrestling in the seventh grade and moved his way up to the varsity level.
Miyamura head coach Nate Sellers said he started off scrappy and developed a strong work ethic.
"He started wrestling for the high school in eighth grade and kind of got thrown to the wolves. Drake's always been a very hard worker in the room," he said. "He was just hungry the whole time. He was hungry to learn more; he was hungry to push himself farther."
---