2017 in Review: Can you spell f-a-m-i-l-y?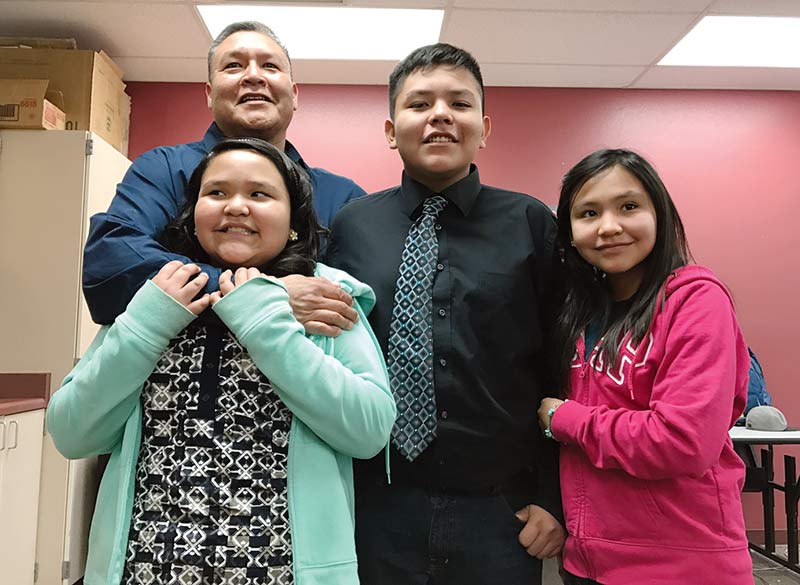 Siblings sweep Fort Defiance spelling bee
(Editor's note: This story originally ran Feb. 23. For our annual year-end edition, we're rerunning some of the best feature stories of 2017. Please see our other stories via the related links below.)
GANADO
Siblings Matthew, Hailey and Kelly Haven all placed first at the Fort Defiance Agency Spelling Bee in their respective grade categories Feb. 17.
Kelly, who is in sixth grade, and her younger sister, fourth-grader Hailey, attend Tsehootsoi Intermediate Learning Center, while their older brother, eighth-grader Matthew, attends Tsehootsoi Middle School. The Haven siblings were among dozens of Fort Defiance agency students that competed in the spelling bee. The winners and runner-up spellers will now proceed to the Navajo Nation Spelling Bee, which leads to the Scripps National Spelling Bee in Washington D.C.
"I think the big part was their mom, because she volunteers to help," said Martin Haven on his children's successful feat. "I really didn't have much to do with it. I'm overjoyed, but my worries is they're going to go against each other at the Navajo Nation."
Martin said his children's interest in competing in the spelling bee began with Kelly, who was in first grade when her mom Dina Haven suggested she participate. Kelly came in second place last year during the Navajo Nation Spelling Bee. "When I was in first grade my mom would be, 'Why don't you try the spelling bee?' and I did," said Kelly as to how she got her start. "When they (siblings) started to try I was, 'Oh great, now I have to share the spotlight.'"
When Hailey found herself one of two students out of 15 spellers to have gotten past the first round she said it was surprising at how quickly students were disqualified. Words fourth-grade spellers were given included oracle, boulevards and enumerated. These words were used again during the seventh and eighth grade competition but it took the older students a little more time to spell them.
Hailey won with the word "bestial." When she found out that the word she had won with was misspelled by older students, she said "I'm smart."
"My mom helped us," said Hailey as to why she and her siblings conquered. "She made us folders that had our spelling bee list and we would always study every day."
---