Diné artist's work vibrates through hotels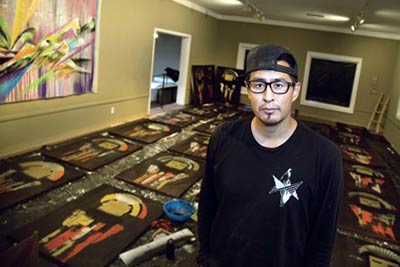 WINDOW ROCK
At hotels, we are often greeted by the same boring artwork, but Navajo artist Randy L. Barton got to change that for two hotels in New Mexico.
Barton, 36, customized a room inside the Nativo Lodge in Albuquerque, N.M., and painted 75 original pieces for the El Dorado Hotel & Spa in Santa Fe, N.M.
Nativo Lodge and Eldorado Hotel & Spa are part of Heritage Hotels & Resorts, Inc.
Barton was given the opportunity to paint the room at Nativo Lodge through the Southwestern Association for Indian Arts/Heritage Hotels Rising Artist Fellowship.
This fellowship allows an artist to reside at the Nativo Lodge in Albuquerque, and in that time redesign a guest room for the hotel.
Senior Marketing and Creative Director Maresa Thompson said Barton completed the Nativo Lodge room this past January, and so far it has been reported by their guests as "one of the favored rooms."
---