Mobile clinic to provide convenient, timely access to medical care in Page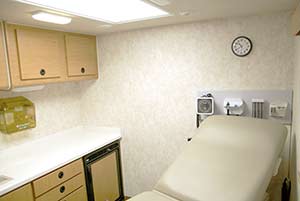 PAGE
Healthcare may soon be closer than the hospital for the locals and tourists alike here, following the unveiling of Page Hospital's new mobile health clinic on Aug. 15.
"We're so excited," hospital CEO Sandy Haryasz said. "The reason we got into this is because we wanted to increase access to care for patients."
The 39-foot-long mobile health clinic, which production costs exceeded $300,000, is particularly noticeable, attributable to the graphics, which are of the popular attractions around town such as Glen Canyon Bridge, Lake Powell, and Horseshoe Bend on the Navajo Nation.
The mobile health clinic will travel in and around the community and will provide convenient and timely access to medical care where needed most.
---