'This is our water': Little Colorado River chapters discuss forming association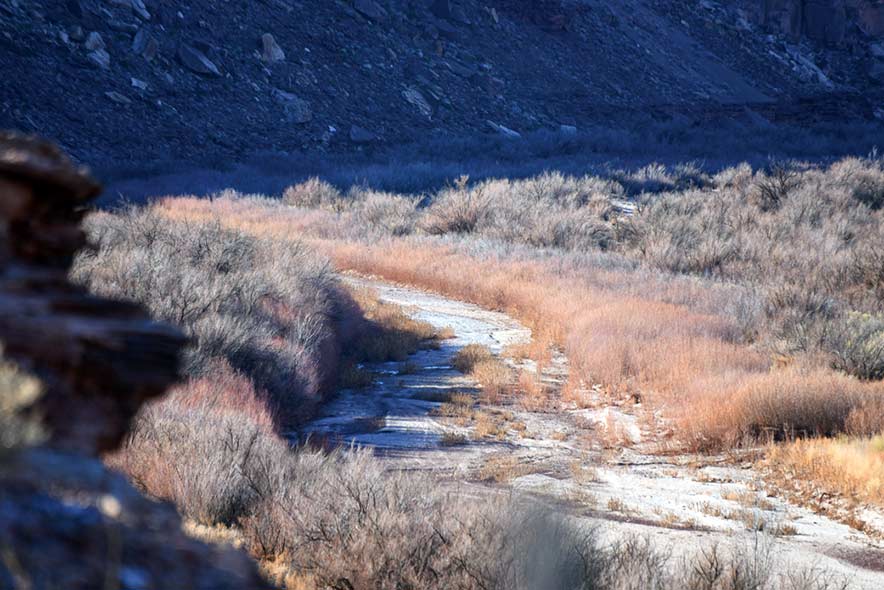 By Krista Allen
Special to the Times
TÓŁCHÍÍKOOH, Ariz.
There is a demand for water in southwestern Navajo and Diné here say they need to act fast to secure their water future.
Tółchííkooh, the Little Colorado River, runs through Na'ní'á Hasání, Tó Nehelį́į́h, Tsídii Toi, and Tsiizizii. The communities of Tónaneesdizí, Tsékǫ Hasání, and Tsinaabąąs Habitiin also benefit from the river.
But people every day are going to the chapter houses saying they need water, said Leslie Williams, the grazing official for Tó Nehelį́į́h Chapter.
"Because of the pandemic a lot of our chapters are closed which creates more chaos within communities where no services are being rendered," Williams said during a recent grazing permittee meeting.
"So the plan here is to see what kind of plan we can come up with," he said. "We might even consider establishing a Little Colorado River water association."
But when water proposals are introduced to a chapter without public records and open meetings, local protests halt those plans.
Williams said he's heard too many times grazing permit holders (or water users) say "this" land is theirs and they want water before a project moves forward.
"So to have a better understanding, to have everyone have a voice in it, maybe establishing a water association would be the answer to this whole thing, starting out with the projects that are being funded," Williams said.
"But since funding is limited, I want to really push beyond that," he said. "I want to see (Tółchííkooh) water brought up to surface, water being used, distributed to various areas of the Navajo Nation so that people with livestock can use it. That's the plan right now."
The sacred Tółchííkooh and the Colorado River (Tooh Bikooh Dinék'ehjígo) define life for Diné here, but there is lack of water for the people.
"We're always saying 'water,'" Williams said. "Yes, we all understand that but there's a pandemic we have to consider. People are always complaining about water. I have a good idea how many livestock (permittees in Tó Nehelį́į́h) have. There's hardly any water out there."
Water crisis
This area of Diné Bikéyah has been experiencing water scarcity and drought conditions for more than 40 years, said Jacques Seronde, who's been working on water issues since 1976.
Seronde is the secretary for the Tolani Lake Enterprises board of directors. He has worked with Tółchííkooh chapters on agricultural development and natural resources management, with departments and divisions in Tségháhoodzání and Diné College's Land Grant Program, among a list of others.
Seronde, along with the late Seymour Tso Sr., started in Na'ní'á Hasání right around the same time the Phelps Dodge Corporation petitioned the Arizona Land Department to determine the water rights of the LCR system and source (LCR adjudication).
That case was transferred to the Apache County Superior Court in 1979.
This is one of two general stream adjudications – a judicial proceeding to determine the nature, extent and relative priority of water rights in Arizona.
The other adjudication is the Gila River system and source (Gila adjudication).
The exterior boundaries of these two cases include more than half the state where most of the Native nations and federal lands are located, according to the Arizona Department of Water Resources.
The LCR adjudication is into its 43rd year of litigation. The case involves approximately 11,000 claims on behalf of some 3,000 claimants – including the state of Arizona, Salt River Project, Arizona Public Service, Tucson Electric Power, Phelps-Dodge Mining, Stone Container Corporation, several municipalities, ranches and irrigation companies throughout the state.
The Navajo Nation participates in the LCR adjudication both as a claimant (asserting water rights claims) and as an objector (responding to the claims of other parties, including the Kiis'áanii Tribe).
But battles in court over water may not end in this lifetime.
Seronde said the Navajo Nation needs to say, "This is our water." And to do that, work needs to be done and water plans need to be established.
"I was privileged to work with Seymour Tso, Kent Tso, Alex Riggs, John Yazzie … and all the beautiful people along the (LCR) and we started it and we did what we could," Seronde said.
"We drilled new wells at Beaver Farm, we worked with the wells at North Leupp, we drilled two wells in Cameron," he said. "We tried to see and answer the question: Is there water?"
Seronde said the Bureau of Indian Affairs back in the old days said there is no water and water plans would not work.
"Here we are still working with that water," Seronde said.
CARES Act budget
Seven wells are being built – one near Tsékǫ Haagééd and six along the river between Tsiizizii and Na'ní'á Hasání. The six well sites are located at North Leupp Family Farms, Beaver Farm, T'iis Biyah Hóteel Irrigated Farm Area, Black Falls North, Black Falls South and Cameron Old Farm.
"A few of those wells were test wells," said Karen Malis-Clark, a volunteer spokesperson for TLE. "Then the real operational well was drilled right next to it."
Six have been completed since Tolani Lake Enterprises, or TLE, was awarded a $3.46 million grant on Dec. 8 through the Navajo Nation Department of Water Resources' Coronavirus Aid, Relief and Economic Security Act budget.
"(We're doing) the finishing touches like the piping that goes from the well to the hoop house at Black Falls, that kind of finishing touches," Karen Malis-Clark explained. "There's a lot of piping delay."
The grant was awarded to TLE for its community-based water and food security projects in Western Navajo, the Former Bennett Freeze Area and in the Navajo Partitioned Lands.
"It's long, long overdue investing in the water," Seronde said. "And we started with what we knew, and we did not do it perfectly. We had to stop Dec. 30, 2020.
"That's the way the law was written," he said. "I know that not everybody's happy, but I do know that we got some water going. We got new wells."
Malis-Clark said many of the well sites along Tółchííkooh are actually old traditional farms, which is why the TLE organization, along with Seronde, looked at those sites for drilling new wells.
"We need to study and understand where the water is in every chapter and in the chapters along the river," Seronde said.
Seronde said he and his collaborators have learned that there is water in the riverbed of Tółchííkooh where the shallow water bathymetry measures eight feet in Na'ní'á Hasání. It measures about 100 feet in North Leupp and in Beaver Farm; 75 feet in Black Fall; and 1,000 feet in Tsékǫ Hasání.
"We need to understand where the water is, where the water is needed and what are the best ways to do that," Seronde said. "When we work together, we get it done. When we fight each other we can't get it done.
"When we don't love each other, the water doesn't come," he said. "The rain doesn't come. We have some new wells. Who is going to take care of the wells?"
Water plans
Tolani Lake Enterprises is trying to obtain additional funding from Tségháhoodzání for future water projects, said Seronde.
One idea Seronde and his collaborators are talking about is putting together a joint community land-use planning team comprised of members from each of the Tółchííkooh chapters.
"This is your water. How do you want to take care of it?" Seronde asks. "We have an opportunity now to work together as we've never had before to get all of our partners together with the chapters.
"Where is the water, how can we develop it, what's the best way to do it and where can we start?" he said.
When an association is in place, plans for water projects can be established such as planting alfalfa, corn and peaches alongside Tółchííkooh from Na'ní'á Hasání to Béésinil.
"Tó éí iiná," Seronde said. "We do our best work when we talk together and when we work together. This is about all of us working together and helping each other. It's been 40 years and look how much water there is. We're not getting the water work done when we don't work together."
But things need to start at the local level, said Leslie Williams.
"If we say 'shá' it won't work either," Williams said in Navajo. "We need to form a committee. When we say 'water' it should be a priority and for our future. We need to discuss this for the future.
"The more brains we put together we can overcome this because we are in a water crisis," he said.
But the bottom line is that people actually know what needs to be done, said Najam H. Tariq, director of the Navajo Nation's Technical, Construction and Operations Branch.
"We can actually accomplish a lot," Tariq said. "We all have to work together so that we can continue to solve any issues and also to keep going forward with the resources we all have."
Tariq said TCOB, along with TLE, recently installed a 25,000-gallon water tank about nine miles west of Tsiizizii, where there will be a new watering point that produces about 100 gallons a minute.
The plan is to have the Tsiizizii watering point up and running by the end of this month. Tariq said this will help the people of the Grand Falls and the Black Falls area.
And there is a plan for another watering point in North Leupp within the next few months. Other plans include installing more water tanks – for both livestock and wildlife – and a windmill.
Grand Falls residents said there is an inoperative windmill in their area. The issue has been reported for repairs over the last two years but nothing is being done.
Grand Falls residents say repairing that windmill should be a priority before establishing a water association and making plans for water users in the middle of a pandemic.
"There are windmills broken down and there are wells that have never been cleaned out and it's just like that," Williams said. "Those are some areas we need to concentrate on (too).
"Yes, it's tough," he said. 'When we bring these issues up at our chapter meetings, we never really get anywhere with them. For that very reason, establishing a committee would be the best thing to do."
Tsiizizii Chapter President Roberta Gorman added that while a water committee needs to be developed, people need to also remember that Tółchííkooh and Tooh Bikooh – female and male river, respectively – are holy and carry stories of the Diné ceremonies, origins of the earth, the sky and the natural world.
---