Thoreau comes up short in 3A playoffs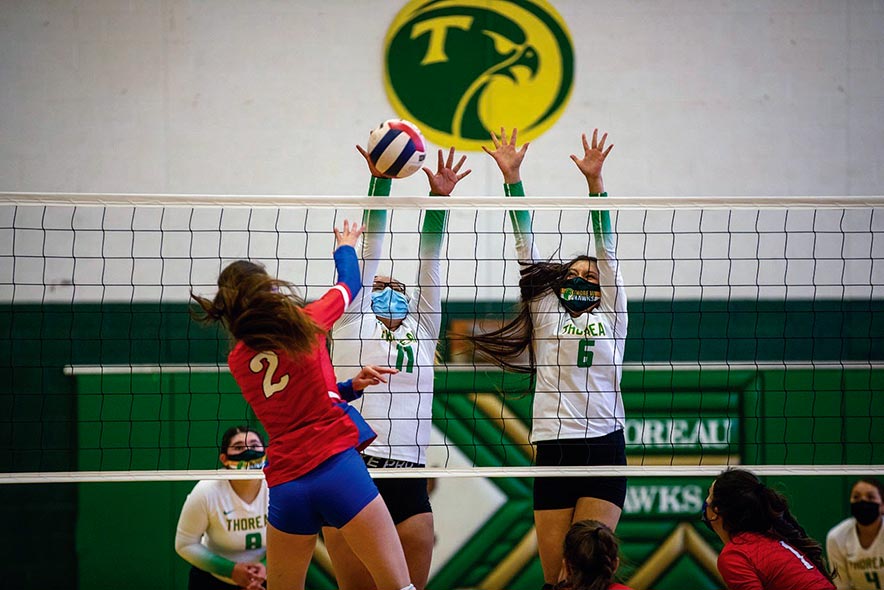 THOREAU, N.M.
Thoreau volleyball coach Kyron White had a lot of consoling to do on Monday night.
His Lady Hawks put up a good fight in the opening round of the New Mexico Class 3A state volleyball tournament but Thoreau came up short to the Hot Springs Lady Tigers. The set scores were 25-13, 25-23, 24-26, 26-24.
"The girls did very well and they left it all on the court," White said as his team finished the abbreviated season at 9-3 overall. "It just went back and forth and it came down to fundamentals. We made a couple of errors on our end but we played really good."
In other state round action, Gallup, Tohatchi, Rehoboth and Pine Hill also came up short in their respective brackets on Monday night.
After losing the first set by double digits, White said they made some defensive adjustments to better cover the space behind their blockers.
"Hot Springs tipped a lot so we moved our defense in," he said. "We made that defensive adjustment and I just told the hitters to be aggressive and they responded."
Hot Springs coach Robert Haro said the nicely placed dinks were effective as his team mixed things up to throw off the Hawks.
"We had some nice ones but that team over there is really, really good," he said of the Thoreau team. "The last few sets were exciting and they were close. It was just our luck that we pulled this one out."
Haro said the little things got more amplified as the final three sets went down to the wire.
In the second, the Tigers scored the last two points with Thoreau tossing in a serve that went wide, and they won the set on a service ace from senior Carina Apodaca.
In the next set, the Hawks staved off three match points to extend the match. Trailing 24-21, Thoreau used a 5-0 run to score a 26-24 win behind the arm of senior Jalena Begay, who put down three of her six kills in that set. During that rally, the Hawks got some steady serves from senior Malika Sam as she tossed in a service winner.
In the fourth, Thoreau had a chance to prolong the game with a 24-23 lead but a hitting error allowed Hot Springs to tie it. Behind two dinks kills from freshman Arianna Alaniz the Tigers ended Thoreau's season.
"Both teams were equally matched and it came down to a couple of errors here and there," the Hot Springs coach said. "Both teams deserved to win and I was really worried that we would go to five (sets)."
After Alaniz scored the game's final two points, tears started to stream down the Thoreau team as White had to give comfort to his squad.
"Volleyball is a game of momentum and Hot Springs got the momentum when they needed to," White said. "We gave them a game but like I said it came down to fundamentals and they're a well coached team."
The Hawks will be losing four seniors including middle hitter Jalena Begay, who finished the last three sets with 17 kills.
"She played a great game tonight and she had a great career," White said. "Jalena is going to be missed because she's our top blocker, our top kill leader and top passer. She leads in about every category on our team. She's very competitive and we're going to miss her."
The Hawks will also lose the service of Malika Sam, Diamond Calladitto and setter Adela Sena.
"For the past three years we've been running a 5-1 and she's a big part of our success," White said of Sena. "She's going to be missed."
---