Grandmother is inspiration for 'GrownUp Navajo'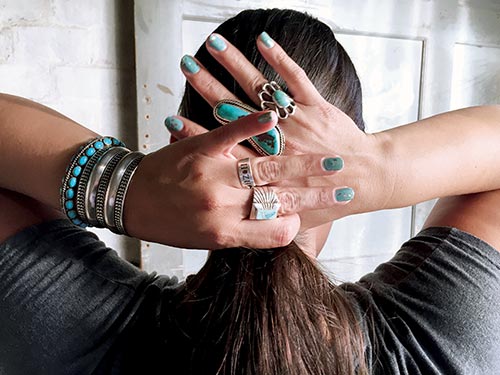 WINDOW ROCK
"I kept hearing her voice tell me, 'You know what to do,'" said Jaclyn Roessel about why she created what would become GrownUp Navajo.
Roessel was talking about her paternal grandmother – Ruth Roessel – who was a renowned Navajo educator and advocate.
Ruth unexpectedly passed away in 2012, which was a huge shock to Jaclyn.
This "difficult" life event set her on a healing path that would be documented through her blog, Instagram and YouTube channel – all created under the creative name of GrownUp Navajo.
"I needed a way to process not having my nali asdzaan with me anymore," Jaclyn Roessel said.
Roessel's creative content is a mixture of her own story of healing as well as traditional Navajo thought about how to live a good life.
"It went from just parents reading it, just them, to slowly, like, different people finding it and then it resonating with people," Roessel said. "I also, like, didn't see anything that was similar to what I was feeling, what I wanted to focus on which was very cultural."
She utilizes several platforms to help share her messages of learning to "speak sacredness fluently," "poetic reciprocity" and what it means to her to be a "Diné asdzaan."
Her most popular video on YouTube is titled "GrownUp Navajo: Tsiiyeel Hair Tutorial." The video has been viewed over 3,000 times. In it she teaches how to tie a tsiiyeel on yourself as well as the lessons behind the traditional Navajo bun.
This was part of her #TsiiyeelTuesdays on Instagram where Roessel encourages people to wear their hair in the traditional hairstyle and share it on social media with the hashtag she created.
Roessel is part of a new industry created and driven by social media. Not only is she part of a new industry but is also one of the few Native Americans to enter it.
---