NDOH moves to address childhood hunger on the Navajo Nation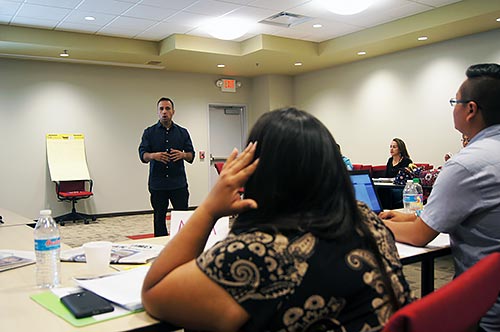 WINDOW ROCK
Leanne Lee saw the impact of childhood hunger first hand in her last job.
"I was a teacher for many years with Head Start. There I would come across children who were hungry," she said. "As an early childhood educator, I know that nutrition is a big part of their development. When they don't have food, when they don't have nutrition, how can they grow?"
With that experience under her belt, the Navajo Food Access Navigation Program run by the Navajo Nation Department of Health gave her an opportunity to make an impact and work to end childhood hunger on the Navajo Nation.
"Who do I hope to reach? The community, parents and ultimately the children," she said.
By bringing in 19 people like Lee to work as Food Access Navigators in Eastern Navajo, Fort Defiance and Shiprock, DOH hopes to make an impact on childhood hunger as they evaluate assets to help people gain food access, bridge gaps between the times children eat at school and at home, and to help families and households in need connect with nutrition assistance programs.
"There is really, you notice a real, a passion of our staff," said Lucy Laughter-Begay, who runs the program.
Funding for the program came in the form of a 2015 grant in the amount of $2.4 million from the United States Department of Agriculture. The Navajo Nation received the funding alongside four other communities in Kentucky, Nevada, Virginia and the Chickasaw Nation. Each participating community developed a demonstration program to show how the grant monies could be applied to make a difference in childhood hunger.
The program as implemented on Navajo Nation could, if successful, become a model for combating childhood hunger. Importantly, if it works as intended, the Navajo will have created and implemented a Navajo solution to a Navajo problem, according to the Navajo Department of Health.
---