Monica Nuvamsa and her Hopi community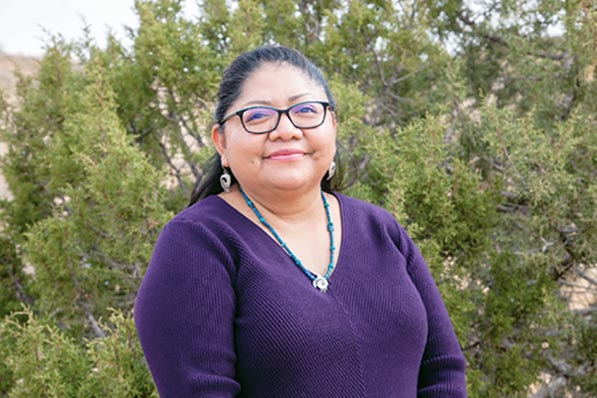 By Amy Jakober
First Nations Development Institute
LONGMONT, Colo.
When Monica Nuvamsa first ventured away from her home in northeastern Arizona at age 17, she had her sights on new worlds to explore. As her path led her to Tucson, to Flagstaff and, ultimately, to Washington, D.C., she discovered her greatest world was the one back in her community.
Now, with a goal to invest her knowledge, experience and skills in the strengthening of her Hopi Tribe, Monica is bringing her perspective to the First Nations Board of Directors, showing how efforts on a national scale translate into the day-to-day operations of a local village.
The reasons for Monica returning to her roots are clear when she talks about her childhood. She grew up in the Village of Songoopavi on the Hopi Reservation, in a strong female matriarchy. "There's a saying that Hopis have," she says. "A man who has a lot of daughters is a rich man."
The reason for this, she says, is that women strengthen the whole clan. They are the resources – key to the day-to-day operations in farming and ranching, and imperative to Hopi rituals and ceremonies. They lend support in every task, and they make it possible to create more generations of that support. "The men may be the managers, but the women are the owners," she says.
---