Caterer salvages his business with drive-through meals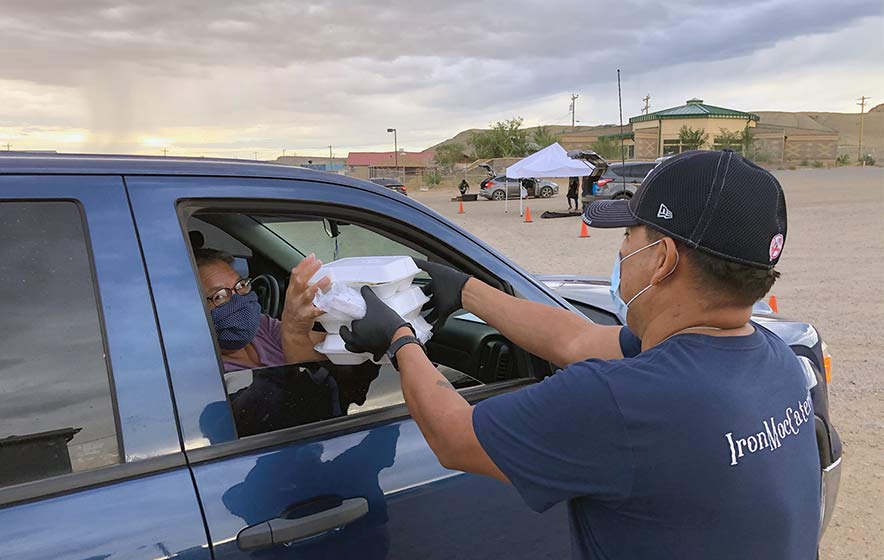 SANOSTEE, N.M.
Last graduation season, James Iron-Moccasin's catering business, Iron-MocCatering, was busy handling up to eight graduation parties nearly every weekend. From May through July, he was slinging burgers to barbeque and beyond.
Then, the pandemic hit but this didn't stop Iron-Moccasin from continuing to push forward. He just had to be a little bit creative.
One of his customers paid for catering almost a year ago. Instead of cancelling the catering services, the family opted for a grab-and-go meal that they gave out to celebrate their graduate.
It was a drive-through graduation party. Iron-Moccasin also did a grab-and-go meal for the graduates of Sanostee, New Mexico, in July. The chapter hired him to cater the local celebration.
These are just some of the ways he's continuing to safely provide catering services. Despite his best efforts, there are times when he has to refund deposits. "As a small business, you know, that hurts me," he said.
These setbacks don't keep him from trying again and again. He has catered for first responders and is working with other businesses to keep afloat during this tough time. Iron-Moccasin's journey to owning his own business started when he was just a kid.
"After my dad passed away, my mom was a single parent and I had to cook for her," he said. "She worked in the evenings. She made me learn how to make bread – typical tortillas, fry bread, biscuits, cornbread." His mother told him that cooking was an essential skill. "She always told me, 'You're going to have to feed yourself one of these days. Don't do it to show off to anybody. You do it for yourself,'" he said.
Little did she know that cooking wouldn't just feed Iron-Moccasin but it would put a roof over his head and gas in his car. "A lot of her recipes I use to this day," Iron-Moccasin said. "I have to give her a lot of credit."
He got his love for cooking from his mother, whom he credits for inspiring him to pursue a career in culinary arts. "I'm a former cake decorator," he said. "I started that in high school."
Never did he expect that his high school hobby would lead him to one day cater for the stars of "Jumanji: The Next Level." Part of the film was shot in the Shiprock area. Iron-Moccasin started his business in 2011 after living away from the Navajo Nation for a few years. He wanted to share his love of food with his community. "I knew it was something the community would benefit from," he said, "They didn't have catering businesses."
Iron-Moccasin can make everything from barbeque favorites to gluten-free Navajo tacos to Italian dishes and everything in between. "A lot of caterers focus on certain food," he said. "I am very eclectic with my menu. So I don't service just one thing."
The only type of food he doesn't have a handle on right now is Asian cuisine but he's working on that skill. Iron-Moccasin continues to expand his menu to meet the needs of the community and his clients.
Information: Iron-MocCatering on Facebook.
---