Students share their stories, get gift packages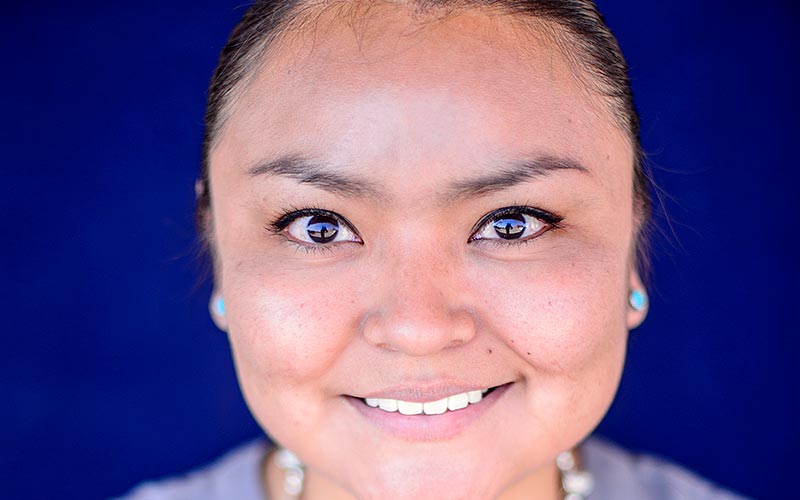 Three weeks ago, I announced that 20 current Navajo college students will be awarded with free college gift packages in exchange for their stories. This week, I am happy to announce that 11 college gift packages were sent to students across the U.S. I want to thank each student and parent who willingly shared his or her story with me.
My desire to give back to our Diné scholars stems from being a recent Dickinson College graduate and being this year's first runner-up for Miss Navajo Nation. As a first-generation college student, I understand the stress of being Diné in college.
Being one of the only Native Americans on campus, I struggled with being a representative for all Indigenous people. I was asked to become a historian or a teacher on the spot.
To be a Navajo college student is tiring. One time I felt defeated and told my college professor that college was not made for Native American students like me but it was instead created for white men. Months after that conversation I graduated from college.
It is my hope that these gift packages will ease some stress for Navajo college students. Therefore, this section of the Times is dedicated to the 10 students and the three parents who shared their stories. Due to the amount of responses received, this week's edition will feature the first half of responses. The second half will be placed in next week's edition.
Students answered the following questions: How do you balance your language and/or culture identity with academics? Describe what motivated you and how you gave back to our community? What impacts generated your determination to apply or continue your college education?
Parents responded to the following questions: What story of yours do you think influenced your college son or daughter to pursue an education? What obstacles did you have to overcome before you were able to accept your son or daughter going to college? How have you encouraged your college son or daughter to give back to our community? Why?
Jodie Henderson, of Window Rock, is a senior at Occidental College in Los Angeles. She is majoring in sociology with a minor in classical studies and education.
Whenever she gets a chance to write a college essay she focuses on highlighting her Diné culture.
"Not a lot of students know the history of Native Americans," she wrote. "The challenges we faced, continue to face today and/or the accomplishments we made."
She is currently writing her senior thesis paper on how "Native youth are preserving and maintaining the Navajo language."
Uriel Duncan, of Farmington, attends Arizona State University in Tempe, Arizona.
As a second-year student he was influenced by his community to focus on construction management. He mentioned that, one day on his way to Farmington, he saw a red house owned by a Navajo Code Talker. He quickly noticed the sign that read, "Navajo Code Talker needs a new home."
"It did not seem right for a Navajo Code Talker who fought for our country to be living in a house that seemed a small push could have the house on the ground," Duncan stated.
As he continues his college studies he leaves the Navajo Times readers with a message: "Attend college whether you are a recent high school graduate or retired from the workforce. You are never too old to go back to school."
First-year student Tiara Williams, of Window Rock, is a psychology major at Grand Canyon University. She talked about how she was encouraged to attend college.
"In my family it has always been stressed for me to further my education," she noted. "My parents would explain to me the struggles they suffered" and "they wanted me to never worry about the financial struggles that one might face" without a college education.
Colin Ben, of Shiprock, is a doctoral candidate at the University of Utah in Salt Lake City. His area of study is educational leadership and policy.
He discussed how his mother was a major influence on his personal, academic, and spiritual life.
"As a hard-working single parent, working as a teacher's aide and a bus driver for many years, she has demonstrated the importance of giving back," he wrote.
As a way to give back to the community, he plans to share his research findings at conferences and Navajo Nation education offices.
Nikayla Begaye, of Chinle, attends Lehigh University in Bethlehem, Pennsylvania. She talked about the challenges she faced after becoming a parent-like figure to her younger siblings when her father became absent.
"My mother would work hard and try to save money for food," she stated. "There were times where we would have to light candles because the electricity was shut off."
After her co-parenting duties, she realized that she wanted to do more after high school.
"I want to do more than just graduate high school, but I also wanted to graduate college, not only for myself, but for my sister, my brothers, and my mom," she said.
Begaye's mother, Jaclyn Begaye, added, "I encouraged my daughter to keep up her studies in high school to aim for the best scholarships they have to offer. I wanted her to go to any school she would like. I wanted her to stay close but she chose Lehigh University in Pennsylvania."
An obstacle that Nikayla's mother faced was "letting her go to a school far from home which is over 2,000 miles way. I do miss her but I do support her decision and I'm proud of her."
More parent and student responses will be included in next week's edition.
Each student's gift package included items such as laundry detergent, dryer sheets, toothbrush, toothpaste, dental floss, gift card, energy bar, Navajo tea, Cracker Jacks, popcorn ball, study snack, school supplies, and more.
The remaining college gift packages will be taken to KTNN for radio listeners who qualify as current Navajo college students or are parents of current Navajo college students.
---