As school trial rages, ed secretary visits gaining school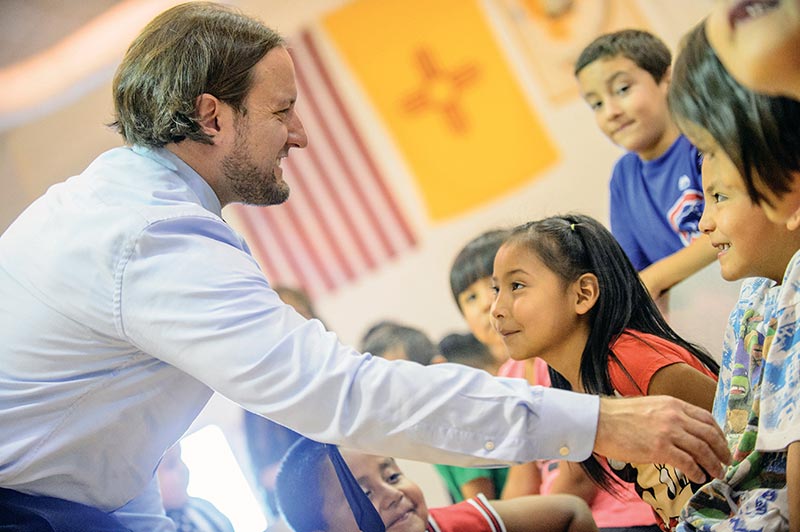 MENTMORE, N.M.
As a lawsuit over the state of education in New Mexico was being heatedly argued in Santa Fe, the acting secretary of education made a visit to one of the plaintiff school districts.
After a stop at Gallup Middle School last Thursday, Christopher Ruszkowski came to Tobe Turpen Elementary — a poor, mostly minority school of the type the plaintiffs in Yazzie v. New Mexico say is being short-changed by the state — to congratulate the school on doubling its standardized test scores in the last three years.
"You were in the single digits two years ago (on the Partnership for Assessment of Readiness for College and Careers test)," Ruszkowski told the assembled teachers, administrators and summer school students. "Now you're looking 20 percent in the eye."
The huge improvement shows, Ruszkowski said, that "demographics are not destiny," which is pretty much the opposite of what Gallup-McKinley County Schools' attorneys were arguing in Santa Fe at that very moment.
The school district, along with five others in the state and several families with school-age children, are being represented in the lawsuit by the New Mexico Center on Law and Poverty, which argues that New Mexico is violating its constitution by failing to fully fund its schools and that districts with large numbers of English language learners, minorities and low-income students are especially hard-hit.
The suit continues this week in First Judicial District Court with arguments for the defense. A decision is expected in September or October, according to Maria Archuleta, communications strategist for the center.
But in the sweltering gymnasium at Tobe Turpin (the school can't afford air conditioning, Principal Cynthia Mowrer explained), the mood was celebratory.
---