Begaye pleads guilty to brutal murder of Ashlynne Mike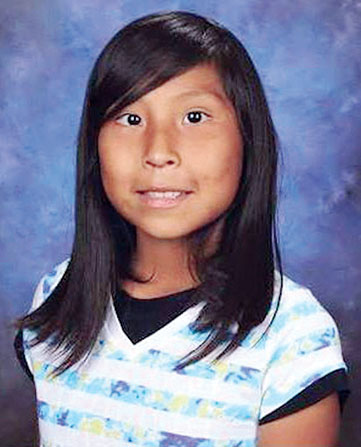 ALBUQUERQUE
Tom Begaye Jr., 28, from Waterflow, New Mexico, agreed to spend the rest of his life in prison Tuesday in Albuquerque.
In under one hour, Begaye entered a guilty plea to luring Ashlynne Mike and her brother Ian Mike into his van, then taking them to the Shiprock pinnacle where he sexually assaulted, then brutally murdered the 11-year-old girl.
Begaye stood in shackles and a red jumpsuit before U.S. Judge William Johnson Tuesday afternoon at the Pete V. Domenici U.S. Courthouse. He never made eye contact with Pamela Foster and Gary Mike, parents of Ashlynne.
Johnson asked him a series of questions if he agreed to his plea agreement, which Begaye replied "yes" to.
The first five counts – one count of first-degree murder, one count of felony murder, one count of kidnapping resulting in death, two counts of aggravated sexual abuse resulting in death – carry a lifetime sentence without the possibility of parole, Johnson said. The one count of kidnapping of a minor carried a 20-year to life sentence.
As Johnson read off the gruesome details of what Begaye did, the Mike family, who had been silent during the proceeding, could not hold back their tears.
Ashlynne Mike's father, Gary, spoke outside the courthouse after the hearing and said it was time he and his family "get off and do something about it" as his family members stood by him.
"It's been full of emotions," Mike said of what his life has been like since his daughter's murder. "There are days when I couldn't get up. There have been days when we didn't even want to talk to anyone. There are days when we'd hear from our children and bring us back to our reality and our love for our other children."
No date has been set for when Begaye will be sentenced, but will be within the next 90 days, Mike said.
---