Shooting at Gallup Panda Express leaves 1 dead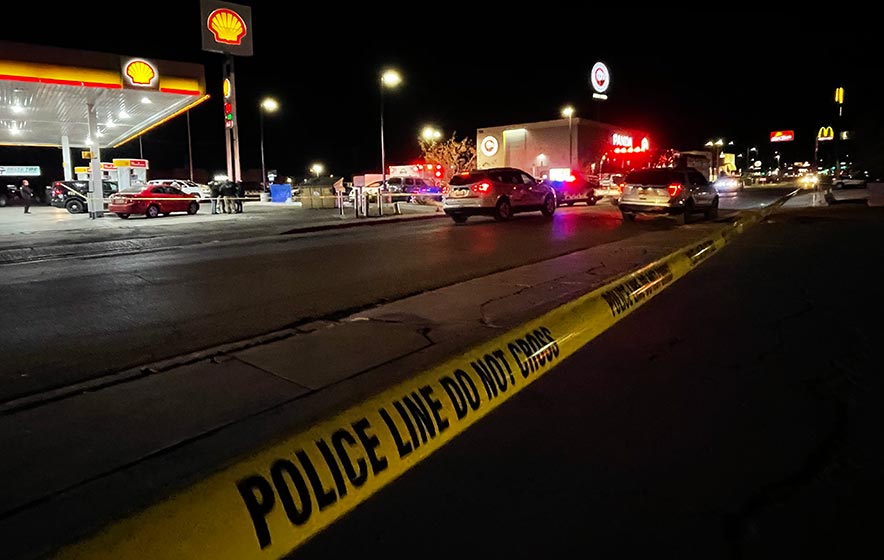 By Donovan Quintero
Navajo Times
GALLUP
The Gallup Police Department is investigating a shooting that left one person dead.
Police were dispatched to Panda Express at 6:06 p.m. for a shots-fired call, Gallup Police spokeswoman Capt. Erin Toadlena-Pablo said Wednesday evening.
A "person of interest" has been detained, she said.
She did not identify the person who was killed.
A handgun could be seen on the hood of a car next to where Toadlena-Pablo said the body of the shooting victim was.
A witness who only wanted to say her first name said she was helping her mother with vehicle problems when she heard five or six shots.
"I jumped out of the car," said Davina, from Gallup.
Davina said she and her mother did not hear or see anyone arguing prior to hearing the gunshots.
Toadlena-Pablo said the shooting is under investigation. She did not say if anyone else was injured in the shooting.
K-9 finds $1 million worth of drugs
HOLBROOK
Mario Hubaldo Pacheco-Orduno, 30, of Chandler, Arizona, was arrested Tuesday on charges of transportation and possession of drugs and a weapons charge after a K-9 officer found $1 million worth of drugs in his vehicle.
The Navajo County Sheriff's Office reports that a traffic stop of a 2007 Chevrolet Avalanche on Interstate 40 at Exit 257 in Winslow led to the discovery of a plastic bag containing white powder inside the vehicle.
When the deputy asked what the substance was, Pacheco-Orduno said it was cocaine.
K9 Zolton was deployed for a vehicle sniff and he alerted. A search of the vehicle revealed 3 grams of cocaine, two suitcases and a paper bag containing a total of 57.8 pounds of methamphetamine, and a firearm.
The estimated street value of the methamphetamine is approximately $1,102,080.
Pacheco-Orduno was arrested and booked into Navajo County Jail.
Sheriff David Clouse said, "A big thank you to Zolton and his handler for this outstanding police work. Zolton has continued to make tremendous seizures and supporting our mission of removing these dangerous drugs from our county."
Navajo Co. Sheriff's report – Nov. 29 to Dec. 5
HOLBROOK – The Navajo County Sheriff' Office reports the following activity from Nov. 29 through Dec. 5.
On Nov. 30, Marco Dixson Jr., 18, was arrested for disorderly conduct-domestic violence in Joseph City. Dixson was booked into the Navajo County Jail.
On Dec. 1, Sherilyan Rose Nutumya, 38, was arrested in Winslow for driving under the influence.
On Dec. 2, Jesse Miles, 38, from Holbrook, was arrested for a probation violation.
On Dec. 2, deputies conducted a traffic stop of a vehicle traveling at a high rate of speed. Upon investigation it was discovered that one of the occupants was in labor.
Deputies escorted the vehicle towards Summit Hospital. While en-route to the hospital, the vehicle pulled over in the Show Low Chase Bank parking lot and occupants notified the deputies that the child had been born.
Deputies escorted the vehicle to the hospital where the mother and child arrived safe and healthy.
On Dec. 3, Sherron Massey, 21, was found to be in possession of drug paraphernalia at a traffic stop in Lakeside. She was issued a criminal summons and released from the scene.
On Dec. 4, during a traffic stop in Lakeside, Nicolyn Ethelbah, 31, taken into custody due to an arrest warrant. She was transported to the Show Low Annex for booking.
On Dec. 4, Austin Santee, 23, was arrested for possession of drug paraphernalia and dangerous drugs while the deputy was assisting Arizona Game and Fish in the area of Kimball Rd and State Road 260.
---