Chief: Not quitting, just frustrated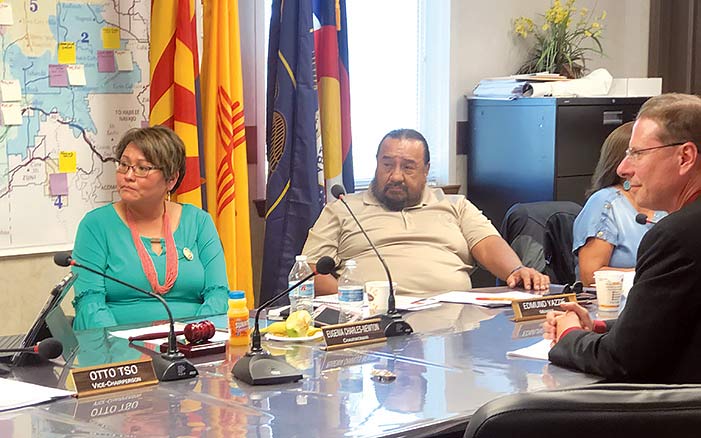 WINDOW ROCK
As vice chairman of the Law and Order Committee Otto Tso sat back down after briefly leaving the room, Committee Chair Eugenia Charles-Newton whispered, "Chief quit," catching him up on the recent debacle.
Tso responded with a shrug.
Moments before, Chief of Police Phillip Francisco was frustrated after Budget and Finance Vice Chairman Raymond Smith wouldn't allow him to finish answering questions.
"I'm done. Good luck finding someone else who can do a better job," said Francisco in the midst of what Smith admitted was a lecture, while the rest of the committee looked on.
But those sentiments came from an exasperated Francisco who had waited for hours to give a report to the committee, only to be cut off by delegates.
Francisco, who later made it clear he has not resigned from his post, said he had no intention of quitting, but grew tired of not being given the opportunity to finish answering questions posed to him.
"I'm dedicated to the police department and the Navajo Nation," said Francisco to the Times. "I'm here to make positive changes. Although I get frustrated with legislative leadership, I am not going to let them get in the way of improving public safety and improving the working conditions of my officers."
It was only three years ago the Navajo Nation rejoiced when it was finally announced that a police chief was hired for the large, underfunded, understaffed police department.
This position had been vacant for nearly a decade, steered by a revolving door of acting chiefs. Finally they hired Francisco, a young Navajo who had nearly 20 years of law enforcement under his belt, having worked as an officer for the San Juan County Sheriff's Department, city of Aztec and city of Farmington. Not to mention Francisco's military career and his education.
"This administration really promotes bringing our highly, qualified Navajo people back and Mr. Francisco has a degree and experience on the law enforcement," said then-Vice President Jonathan Nez after Francisco was sworn in as chief of police in 2016.
"When we brought on Jesse Delmar we recognized he had what it took to re-establish the Division of Public Safety for the better," he said.
Delmar and Francisco, both Navajo but both having worked outside the Nation for years, were new leaders who at times found the bureaucracy of Council unappealing. But they forged on.
During Monday's meeting it was evident that Law and Order Chair Charles-Newton wanted Delmar, who has been director since 2015, present but due to a scheduling conflict he wasn't able to attend and Dale West, director of Criminal Investigators, attended in his place.
"The chief of police never said to anybody he quit," said Delmar to the Times, referring to the Times' webpage article headline, "At stormy meeting, police chief quits."
"Contrary to what the public has heard so far that the chief has quit, it's not correct," Delmar said.
It was Delmar who had chosen Francisco to undertake the chief position because of his qualifications. He said he can understand why Francisco did what he did.
"I selected him because he is the best man for the job," said Delmar. "He is doing a lot of great things. As Navajo people we need support what he is doing. A lot of good progress he's made. We don't need to discourage him, we need to encourage him."
---