'It's not politics'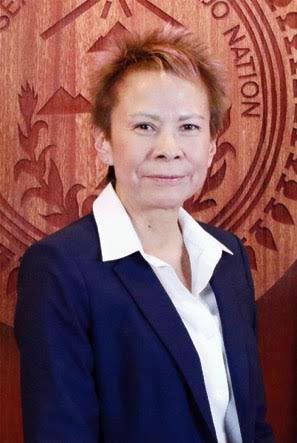 Deschinny, embattled economic development director, resigns
WINDOW ROCK
Crystal J. Deschinny came on board as the first female to head the Division of Economic Development in 2016 and on Tuesday she surprisingly resigned.
Deschinny said in a phone interview with the Times that she was compelled to resign in order to care for her elderly parents who both reside in northern Wisconsin.
Not going too much into detail, she said she knew there would come a time when her parents would need her to care for them and that time has come.
"A few weeks ago I got a call I never expected," said Deschinny. "Long story short, I need more time to care for my parents."
A wife and a mother of one son, who is currently a freshman at Navajo Preparatory School in Farmington, Deschinny said she couldn't take care of three teams, one being her family here on Navajo, her parents in Wisconsin, and her job as head of DED.
"It's not politics," said Deschinny. "I have respect for the president and vice president and Clara Pratt (current chief of staff for the president's office) and how they took this decision. I was settled at DED and we were gaining momentum."
A member of the Forest County Potawatomi, Deschinny's impressive education included a master's in business administration and a master's in American Indian Studies Tribal Policy and Law from the University of Arizona.
With her experience, such as being the chief executive officer for the Tolowa Dee-Nation, she was what the Begaye-Nez administration was looking for to help the division get out of the rut in which it had found itself.
And Deschinny was ready to take the challenge of creating jobs and improving the overall economics on Navajo, but her determination and drive was a bit much for certain Council delegates and staff who weren't accepting the change their new leader was foisting onto them.
In 2017, a bill was approved by DED's oversight, the Resource and Development Committee, and sponsored by committee member and one of the major critics of Deschinny, Davis Filfred, that suggested President Russell Begaye fire Deschinny.
"The Division Director … has utterly failed in her execution of her duties," stated the legislation.
The Dineh Chamber of Commerce had also supported the resolution stating reasons why they believe Deschinny should be taken out of her job: lack of enforcement of the Navajo Business Opportunity Act; failure to close or disburse approved financial loans for Navajo-owned businesses; failure to provide any response to business owners' requests for the status of their projects; creating a hostile environment impeding DED staff from collaborating, processing and concluding the necessary documents for small businesses to start construction and open commercial businesses.
"In our attempt to promote Navajo small businesses we need to work with a tribal government with a same frame of mind," said Jefferson Begay, president of the Dineh Chamber of Commerce, in a previous interview. "The current director (Deschinny) is not helping … in fact she is basically fighting. She isn't in the same frame of mind to be supportive."
When first coming on board as the executive director, Deschinny inherited a troubled Division of Economic Development. From the time she was hired, she began work on the Correction Action Plan audit for the Business and Industrial Development Fund. This program provides loans to qualified Navajo individuals or Navajo-owned businesses, but this came to a halt in April 2016.
The audit pertained about 15 years of "carelessness" when it came to the loan service, known as the BDIF program.
"I did not come to clean up a mess, and that was what it was," said Deschinny about the audit issue.
But she has been cleaning up and gave her staff the opportunity to try to fix the problem but that only showed her staff did not have the "tools nor the skills" to do it at the time.
Although no fault of her own, delegates used this as a reason to harp on her and raise what they believed to be her bad job performance. But the real reason was the lawmakers' concern with the Navajo Regional Business Development Offices and the layoffs made to this department because of legal issues, not having a valid lease, little activity, and staff that needed more training.
"One delegate made a comment and implied I was a bad apple," said Deschinny in a previous interview. "You're right, I'm a bad apple because I hold people accountable. If we stay where we are right now, don't complain about no development because you can't have it both ways."
The disdain for Deschinny even became personal when at one meeting she was criticized by a delegate for wearing a Green Bay Packers jersey. She apologized and said she meant no disrespect.
Just recently, Filfred gave a directive during a RDC meeting to have Speaker LoRenzo Bates write a letter to Begaye and ask for Deschinny to apologize for what he said was "racial comments" to students while presenting at Diné College.
"I couldn't say anything about that," said Deschinny in a phone interview. "Diné College did secure a tape recording and I never said what I was being accused of. That was one person's interpretation and I know what I said and didn't say."
But although she was one of the most chastised of Begaye's appointees, Deschinny continued to strive.
She was a member of the team that negotiated terms with the Navajo Generating Station owners to gain assets such as property to promote economic development projects, including the railroad track and related facilities, a lake pump facility, two electrical distribution lines, and fencing and equipment.
The Nation would also receive $18 million from the owners for the cost savings of not having to decommission the assets, and $39 million in minimum coal royalties for 2018 and 2019 combined. Additionally, the Nation would have the ability to utilize the two transmission lines to sell electricity on the open market to generate additional revenue for the Nation.
Other projects she helped along include the Shonto C-Store and the Ganado Shopping Center, which is currently being constructed.
"I was truly committed for the past two years to DED and I hardly went home, rarely saw my parents, and now is the opportunity to say 'Ok, I'll take care of you,'" said Deschinny. "I will help with projects I have started. My former team is committed to following through with strategy."
Tony Perry, manager for Project Development with DED, has been designated as acting director for DED. The president's office will name and appoint a new DED director.
---