'Nemo Há'déést'į́į́'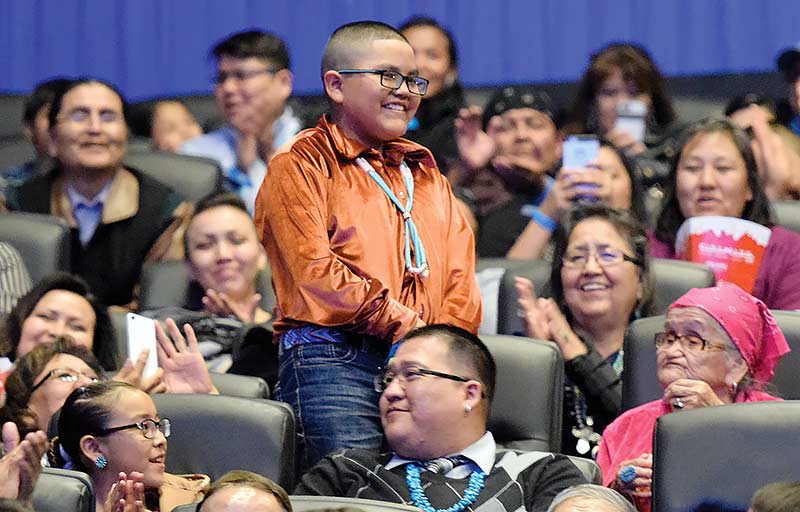 12-year-old shines in new Navajo-dubbed Pixar film

ALBUQUERQUE

Twelve-year-old Quinton Kien is not exactly your typical Hollywood actor but he blew this one out of the water.
As the voice of the title character in the Navajo version of Disney Pixar's "Finding Nemo," Kien made quite an impression on his grandmother Julia Hildreth.
"Nizhoní," said Hildreth, of Steamboat, Ariz., at the premiere on Monday night in Albuquerque at the Century Rio 24 theaters.
The film "Nemo Há'déést'íí" will be shown in nine different theaters March 18-24, which includes sites in Albuquerque, Tempe, Flagstaff and Salt Lake City.
Kien played the voice of "Nemo" in this latest installment where the Navajo Nation Museum collaborated with Hollywood executives to dub the movie in Navajo. The first film to be dubbed in Navajo, "Star Wars," was done in 2013.
"This project was different from 'Star Wars,'" said Navajo Nation Museum Director Manuel Wheeler. "There was a lot of dialogue and emotion aimed towards children and that was what we were looking for."
With the way it was received on Monday, Wheeler said the first screening "went beautifully."
"The audience seemed to react to it," he said. " That is why we do this; we want to engage our viewers."
With some elders in the audience, Wheeler was also curious about what they thought.
"I think the benefits of making this movie is they can watch this with their grandchildren," he said.
---