All-Indian Boxing Championships Damon-Bahe boxing team brings home five titles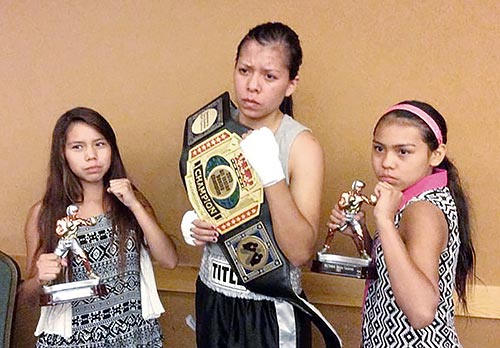 FRUITLAND, N.M.
Whenever Rachel Etcitty steps into the boxing ring, she is never alone.
She is accompanied by the memory of her brother who passed just a couple of years ago. He was the reason she started boxing.
"My late brother used to box when he was younger, we lost him a couple of years ago and now I do it for him," Etcitty said. "Everything we win, we dedicate it to him. We also do it for ourselves because that's what we want, and that's my favorite thing to do."
Etcitty picked up her latest win at the 2015 All Indian Boxing Championships held in San Carlos, Ariz., July 2-4, and once more she dedicated her winnings to her late brother.
She was one of five boxers from the Damon-Bahe Boxing Team to bring home the gold and one of eight to represent the Damon-Bahe Boxing Gym out of Chinle, Ariz.
In addition to Etcitty, the boxing club also had Mariah Bahe (open 11 year old), Roselinda Harvey (open 12 year old), James Bahe (open 17-35 year old) and Neildrea Harvey (13 year old novice) win their respective divisions while Joshua Bahe (178-pound, 17-35 year old) and Wilfred Yazzie (open 17-35 year old) placed second and Jeremiah Bahe (open 17-35 year old) lost in the semi-final round.
Etcitty competed in the 126-pound weight class is her age division. She won unopposed but was given a show bout, which she won by a knockout in the second round.
She said winning unopposed didn't make her accomplishment any less exciting.
"I'm pretty happy that I'm a champion," she said. "I still showed them that I am tough enough and I worked hard, practiced to earn one of those belts."
---