Alamo Navajo outlasts Mescalero in SENAI title game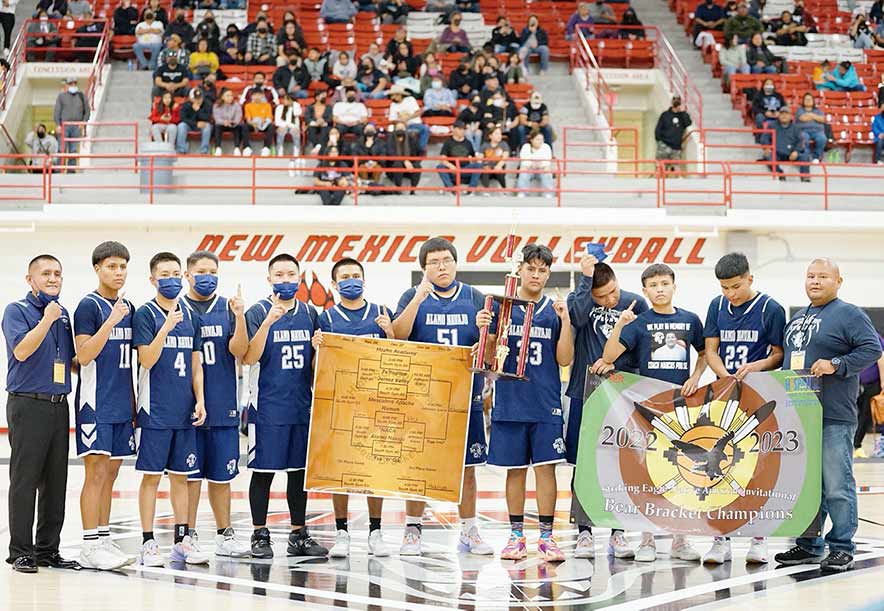 ALBUQUERQUE
The Alamo Navajo boys basketball team needed to do a little dirty work to outlast the Mescalero Apaches in the title game of the Bear bracket at the Striking Eagle Native American Invitational.
The Cougars snagged five consecutive offensive boards with under a minute left in regulation. On its final attempt, freshman Scotty Guerro completed an old-fashion three-point play to give Alamo Navajo the lead for good with 41 seconds left.
The Cougars added one more free throw to secure a 39-37 come-from-behind win.
"We were down by two points, so we had to score," Alamo Navajo coach Lemuel Guerro said. "We made some adjustments in those last few minutes and the guys played some good defense.
"It took a lot out of these boys and they worked hard for this," he added. "We wanted to win this tournament because we got second last year, so I'm really proud of these young men."
Alamo Navajo had three players in double figures with Tayshawn Pino, Jacob Apache and Scotty Guerro scoring 10 points apiece.
"My team just keeps fighting," Apache said, who was named the tournament's MVP. "We just keep going until the final buzzer goes off."
Like his coach, Guerro said they were seeking redemption after falling short in last year's SENAI championship game.
"It kind of motivated us to come back and win it," he said.
The two-point win improves Alamo Navajo's record to 9-3 overall as the Cougars are looking to win its first district title.
"We're doing really good, and I'm excited about the remaining part of our season," the Alamo Navajo coach said. "This was a huge accomplishment, and we just need to continue to work harder."
Of the teams in District 3-1A, Alamo Navajo is the only team to have a winning record. Mountaineer comes in next owning a 2-6 record while Carrizo, Hondo Valley and the blended team of Corona/Vaughn have not won a game this year.
"The teams in our district are struggling," Guerro said. "But if we host the district tournament and win, we'll make history because we've never won a district championship with the boys.
"That is what we're working on," he added.
To stay on top of things, Guerro said they have to keep pushing themselves.
"We got to stay focus, and play harder each time we're out there," he said.
And although they finished second in District 3-1A last season to Magdalena, Alamo Navajo did not get an invitation to the Class 1A playoffs.
"We didn't get voted in," Guerro said. "We want to change that this year and I think we can get there. But like I said, we have work hard to get there."
Apache concurred, while stating that the team is starting to hit their stride.
"We don't have a lot of height, but we play pretty fast," he said. "One of our goals is go to state and at least get past the second round. We want to make history for our school and our community."
---