Chinle boys overcome slow start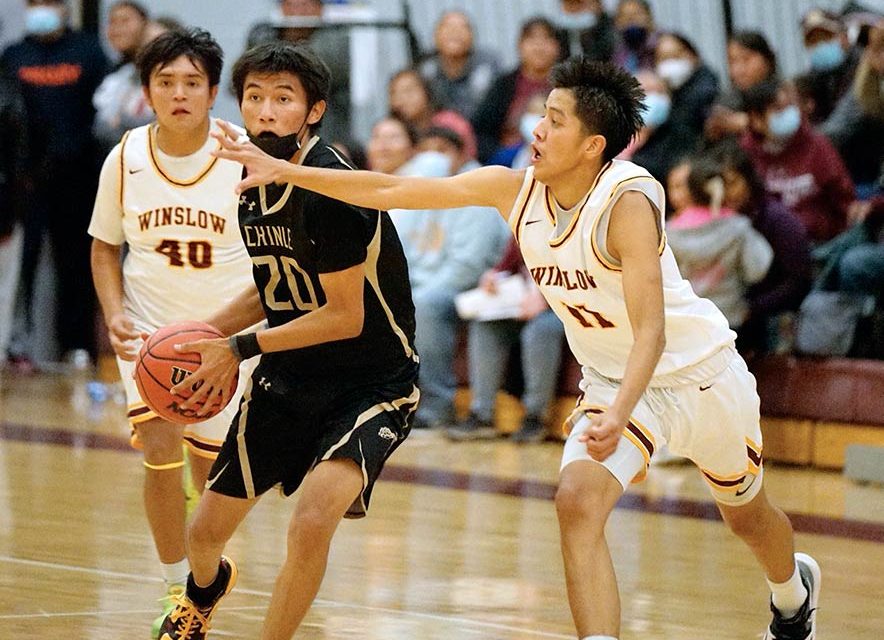 WINSLOW
A slow start didn't deter the Chinle boys basketball team.
The Wildcats trailed 10-1 in the early going against the Winslow Bulldogs and head coach Raul Mendoza attributed that to his squads' inexperience.
Chinle finally got going at the tail end of the first quarter and in the second half they put up 38 points to score a 65-44 road win over the Bulldogs last Friday night.
"This team is very young," Mendoza said. "We got nine juniors and four seniors on the team, so basically most of our kids didn't play varsity last year."
Of the 13 players on his squad, two got some varsity playing time one year ago with senior Delaney Bahe and Jostaiah Harvey being the veterans on the team.
"We're trying to get them to learn how to play together," Mendoza said. "I think at times we looked good tonight, but we need to be a little more consistent.
"It's just recognizing situations," he added. "A couple of times we didn't recognize where a guy was open and instead of passing it to him, we tried to do something."
Identifying those situations will come with experience, Mendoza said.
"It's the little things and it comes with experience," he said. "But I think we'll be fine once we recognized those situations."
In perhaps it best quarter on the defensive end, the Wildcats held Winslow to four points in the second stanza as the Mendoza-coached team led 25-24 at the break.
"I love that," Mendoza said of the energy on the defensive end. "That is how we want to play."
After taking a 20-16 lead in the opening quarter, Winslow coach Venton Nelson said his club lost its footing as they scored 24 points the rest of the way.
"We came out ready to execute," he said. "We did what we were supposed to do and I think it kind of shook them (the Wildcats). After that we just couldn't find our rhythm again.
"We got into foul trouble and we just couldn't recoup from that," he added.
Nelson also lamented on the 30 turnovers they had, and felt that most of them were unforced.
"You're not going to win that many ballgames with 30 turnovers," he said. "We just killed ourselves to where we couldn't make a pass or we would make a stupid pass."
And while Chinle used its press to force the issue, the Winslow coach felt like his team were like a deer in headlight.
"We didn't run our press breaker and we've been running that for the past two years," he said. "We haven't changed things, and so it's the same thing we run. We just went blank and we beat ourselves."
Winslow was led by senior Brennan Begaye as he finished with nine points while senior Blaine Begay added eight.
For Chinle, junior Jostaiah Harvey and senior Cashin White combined for 36 points with Harvey finishing with a game-high 19.
Harvey put in 15 of those points in the second half while White scored 11 of his 17 points in the first quarter.
"We were forcing things and coach told us to take a step back" Harvey said of the teams' early woes. "We just had to play smart and let the game come to us."
---