Outside shooting lifts Page over Window Rock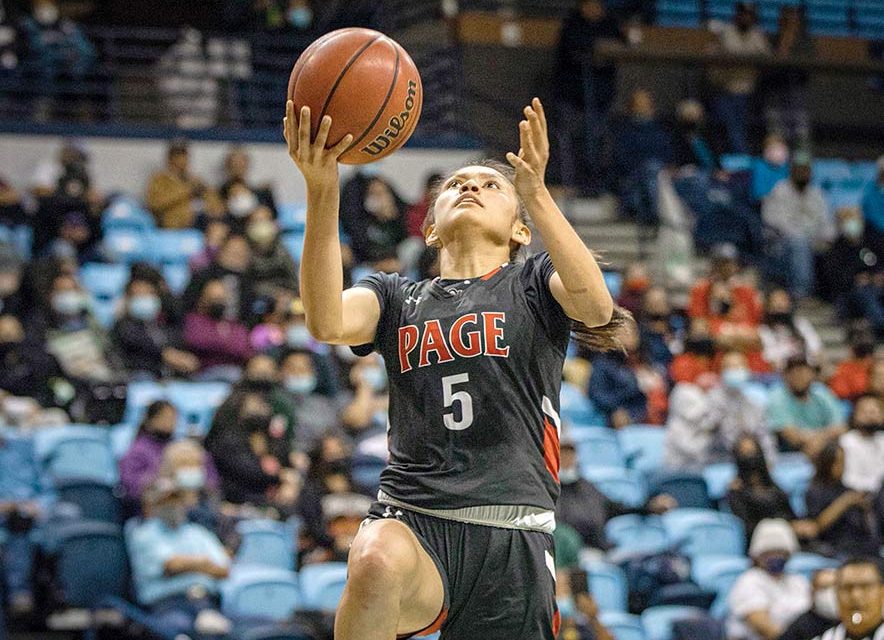 FORT DEFIANCE
The sharpshooting Page Lady Sand Devils nailed seven treys to improve its overall record to 2-0.
Page got four treys from junior guard Alyssa Harris and two from senior Summer Begay on Saturday night as the Sand Devils outlasted Window Rock by a 52-47 count.
"I have to salute the veterans on the team," Page coach Celeste "Boka" Claw said of Harris and Begay. "They made some big shots, and they definitely executed. They know their roles on the team, and they executed throughout the entire night."
Harris led Page with 27 points, while Begay chipped in six.
It took a while for the tandem to find their range as Page started the game cold, missing a bevy of shots.
The Sand Devils trailed 15-7 after one quarter of play, with Harris accounting for four points.
In the next stanza, Harris came up with eight points, which included a pair of three-point daggers as Page cut Window Rock's lead down to 22-19 at the half.
Behind Harris' nine points, Page took a 34-33 cushion going into the fourth.
"Alyssa played a fantastic game," Claw said. "We was able to keep us afloat, especially with our bigs in foul trouble in the entire game. She knew what she needed to do, and her role was to be the leader, and she did that tonight."
And although she helped Page to a one-point advantage in the third quarter, Window Rock regained the lead at 37-34 with Shiryl Yazzie (8 points) and Jayme Tso (14 points) hitting back-to-back buckets with 6:02 left in regulation.
For the next five-plus minutes, there were two ties and seven lead changes, with Page surging ahead at 49-47 when Begay hit her first of two treys with 49 seconds left.
She added her next trey following a Page steal, which sealed the win for the Sand Devils.
"This is our second game on the road, and we're excited to get this win," Claw said while adding that she was missing three players on Saturday night.
"Once we get our team fully together, I think we're gonna be definitely different," she said.
With some veterans on the team, Claw said they have high expectations as Page lost its opening round game last year to Chinle as the No. 5 seed in the 3A bracket.
"I set the bar high for these young ladies," the Page coach said. "I want them to be accountable, and if they continue to mature throughout the year, we're gonna have a good outcome at the end of the year. It's just a matter of them grinding and pushing themselves."
And although they started the 3A North Region at 1-0, Claw said the conference race is very volatile.
"Our region so unpredictable," she said. "We don't know who's going to show up to play, and that is what I love about the 3A North.
"It's always challenging to compete with all these teams," she added. "I'm glad that we're back at it again."
---