Farmington coach goes 2-0 in all-star game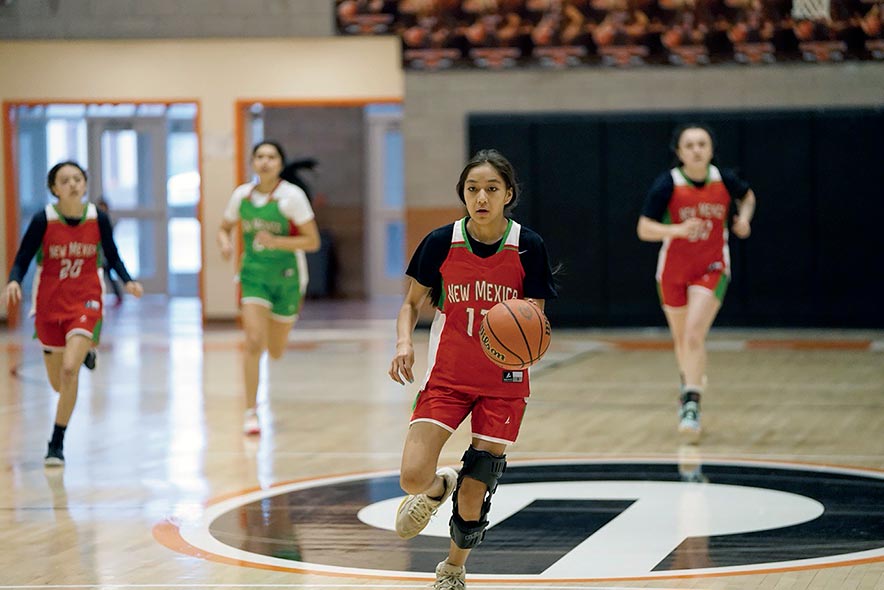 GALLUP
Longtime girls basketball coach Tom Adair kept his perfect record intact when coaching an all-star game.
The Farmington High coach was selected to head the 5A girls Red team as his squad outscored the Green team 40 to 19 in the second half en route to a 84-56 win Saturday at Gallup High School.
Adair owns a 2-0 record with his first stint coming during the 2018 season when he was the head coach at Bloomfield High.
"We had a good team that year and I got to coach Amaya Brown," Adair said of the former Cibola High great who played for the UNM women's team this past season. "That was a good bunch and we won that game too."
In Saturday's all-star game, the Red team was led by Farmington senior Kamalani Anitielu as she finished with 15 points while Las Cruces Centennial High senior Aspen Salazar put in 10 of her 12 points in the second half.
"I talked to Aspen and I told her that I know you're a player and just go play," Adair said. "She was a little uptight a little bit and she took over in that second half. She just made bucket after bucket, so it was fun.
"They all played together and they loved it," he added.
And while he was able to coach Anitielu one last time, Adair had one other player make the all-star game with senior Tinaya Parrish playing on the Green squad.
"This is a big achievement," Adair said of having two all-star players from Farmington High. "It's a tribute to the kind of year that they had."
In his 37 years of coaching, Adair said he couldn't ask for anything less from his two seniors.
"They were great leaders," he said. "They took ownership of the program and they're the best captains that I ever had, so they really stepped up for me."
Anitielu said they led by example as the Farmington team went 28-3 overall.
"We were very positive and we were very encouraging," she said.
To make the all-star game, Anitielu said she put in a lot of work to be selected. With her selection, she kept a family tradition alive as her older sibling, Kiiyani, made the all-star team last year.
"This means a lot because I'm representing my school and my small community," she said. "It's pretty awesome that I got selected because my older sister made the all-star team last year too."
Parrish was also pleased with her selection.
"It feels great, knowing that all my work and all the effort I put in from last year to this year really paid off," Parrish said. "I feel like I achieved all the goals I set out, so this feels great."
And while she was drafted on the opposite team, Parrish said she was looking forward to facing her high school teammate.
"We both wanted that challenge," she said of Anitielu. "We both knew our pros and cons of each other in how we play. It was just nice to see her on the other side of the court scoring."
Parrish said they played on even terms with the Red team for the first 20 minutes, but the game got away from them in the second half.
"They got on a roll and we had a tough time scoring," she said. "That happens, but overall it was nice to play with girls from other schools."
The four-year Farmington player plans on going to college in the fall. As for basketball aspirations, she's is looking over her options.
"I'm still making plans on where I want to go," she said.
Anitielu, meanwhile, is looking to commit to a JUCO basketball team.
---