MV squads open AIA state rankings at No. 2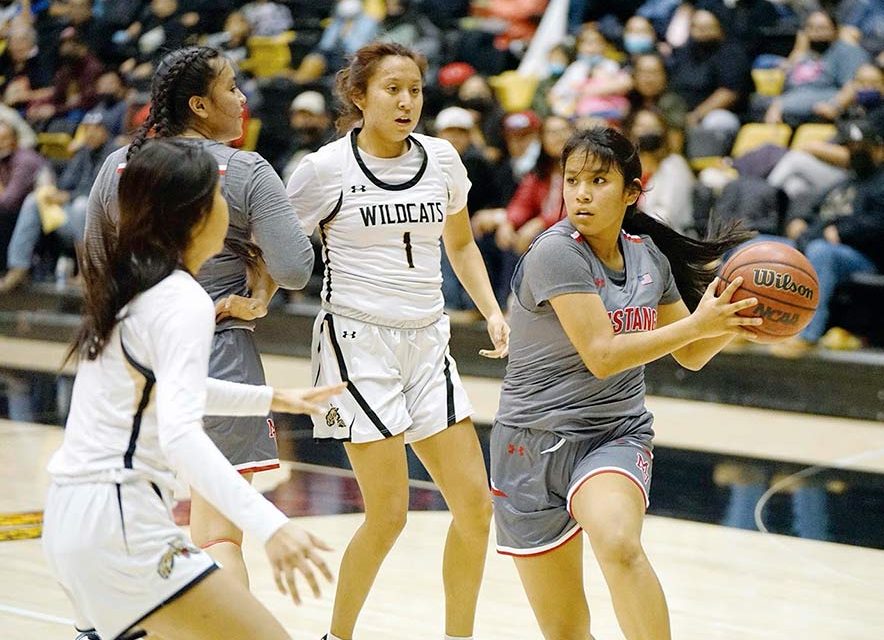 (Editor's note: The game stories between the Monument Valley and Chinle boys and girls basketball teams can be found in this week's print edition.)
CHINLE
The first Arizona Interscholastic Association power rankings for the 2022-23 basketball season was released last week.
The Monument Valley boys and girls basketball teams earned the distinction as the second best squads in the 3A Conference.
And while that's a good starting point, the coaches from both squad agreed that they have to keep playing with humility.
"There's a lot of buzz, and no matter what people say we have to stay humble and we have to stay hungry," MV girls coach Jason Franklin said. "There's gonna be days when you feel like you're on the top of the world, but there is always somebody that can knock you right off."
Franklin said it's important to keep that humility, no matter how well they're playing.
"We just have to remember that there is always going to be teams that are faster, bigger, stronger and more talented than you," he said. "As long as we can remember that, and keep that hunger we have a good chance of accomplishing our goals."
Mustang boys coach Randolph Gilmore said the No. 2 ranking is a huge accomplishment, but like his counterpart he wants his squad to stay humble.
"This is huge, but we need to keep things in check," he said. "We have to continue to be ready, and we need to show up every time. If we don't, we're gonna lose.
"Every game is gonna be tough, especially in the 3A North," he added. "We have to continue to show up regardless of records."
Monument Valley senior Albrandon Byjoe shared the same sentiments as his coach, while adding that this year's squad is looking to make a deep playoff run.
"Right now, we're being humble about it," he said of the state rankings. "We're not thinking too much about that because we know a lot of teams are gunning for us. We know that we have to show up each day and play. It's not going to be easy, so we just have to be ready."
After losing to the Coolidge Bears in the 3A state quarterfinals last season by a 67-42 count, Byjoe said that loss left a salty taste in their mouths.
"They were pretty tall and lengthy, but we could have played better," he said. "I think this year we're working a lot harder because we were kind of lazy last year.
"We're gunning for the state title because as seniors this is our last year to do it," he added. "We're trying to get that recognition."
Gilmore said he's noticed a difference with this year's team that has compiled a 15-2 record after Tuesday night's 64-27 win over Tuba City.
"The guys are really pushing themselves," he said. "They don't want to have that same feeling that our seniors from last year felt.
"I've learned a lot myself," he added. "I'm trying harder too, so it's just not the players."
In addition to the Mustang boys, the girls team also has some lofty goals.
"This team is really good," senior post Paris Littleben said. "We've been playing since elementary school through middle school, so we know how to work together.
"It's all about communication on the court," she added. "We just got to stay focus on what's working for us."
Franklin said there are four elements to that winning formula: playing good defense, getting defensive rebounds, and making free throws and layups.
"If you do those things, you can win a lot of games," he said. "The girls have really embraced that. They have really bought into the idea that no matter how you shoot, defense and rebounding really travels."
Mustang point guard Kierra Johnson said the team prides itself with the way they play defense.
"Like coach says, defense wins games," she said. "Even if you're not playing offense that well, you can still win games on defense."
MV sophomore post Keiryn Mann said making deflections and forcing turnovers is the team's bread and butter.
"We focus more on our defense than our offense because we believe that defense wins championships," Mann said. "We focus more on defense as a team and that is pretty much what we focus on. We believe that if we can get the ball back on defense, it gives us more opportunities on offense."
MV took sole possession in the 3A North with a 57-48 win over Tuba City. The Mustangs improved to 12-5 overall and 4-1 in league play.
"We played a really tough schedule and it prepared us," Franklin said. "You know, the girls stepped up the challenge and they've embraced it.
"We played two really good New Mexico teams in Kirtland and Farmington," he added. "We also played Sedona, Show Low and Winslow. We felt like those games prepared us for the dogfights we're facing in the 3A North and now we just got to stay the course."
---