Tuba City pulls off stunner, upsets top seed Valley Christian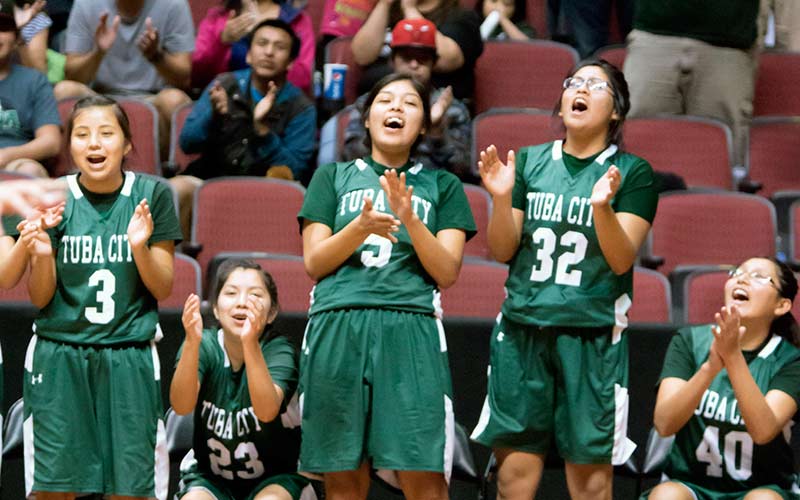 GLENDALE, Ariz.
The Tuba City Lady Warriors gave the three remaining top seeds exactly what they wanted.
But after upsetting previously unbeaten Valley Christian on Thursday night, Tuba City co-head coach Kim Williams fervently disagreed on the notion that her team gave Page, Winslow and Safford a favor by knocking out the tournament's top seed with a 46-38 win at the Gila River Arena in Glendale, Ariz.
"We did ourselves the biggest favor," Williams said. "Being No. 1 is just a number and when you get to this tournament (the seedings) doesn't matter. You just have to play the best you can."
With the win, the No. 8 seed Warriors put the state on notice as they are trying to win its sixth state championship with it last coming during the 2002 season.
"We're coming together at the right time," Williams said. "People have peaked but we haven't peaked yet. We finally have the lineup that we've been trying to get at the beginning of the season."
Because of sickness and injuries to key players during the season, Williams felt that her team was not at full strength.
"Everyone is healthy right now and that makes a big difference," she said.
In other Division III girls action, No. 2 seed Page made easy work of Holbrook with a 64-34 victory while No. 3 seed Winslow took care of Thatcher by posting a 52-36 win.
No. 4 seed Safford, meanwhile, pulled away from Tucson Pusch Ridge with a 47-37 win.
At 11:45 a.m. this morning, Page will take on the Lady Bulldogs while upstart Tuba City plays Safford at 6:15 p.m. with the winners facing off in Saturday's championship game.
After trailing for much of the game, the Warriors took the lead for good at the 5:14 mark of the fourth quarter when freshman Autumn Byjoe hit her only trey of the night for a 35-32 lead.
That three-point shot was part of a 15-0 Tuba City run as they held Valley Christian scoreless for over four minutes.
Senior Tate Tsingine capped that run with a free throw for a 43-32 lead with 2:17 left in the game.
Nonetheless, Valley Christian was not done yet as they hit two consecutive treys to pull within 43-38 with 1:44 to go.
"I didn't want them to give up any threes but we did," she said. "I was hoping the time would run out. I didn't want them to get too antsy and I told them we had to finish out the game."
Sophomore post Keisha Classay led the Warriors with 12 points while junior guard Tatyana Antonio had 11 and Tsingine added nine.
The Lady Trojans got 14 points off the bench with seven players scoring. Sophomore post Megan Timmer led the team with 13 points while Bethany Wolf had nine.
In the boys tournament, the Chinle Wildcats got as close as 41-39 in their game with Palo Verde Magnet.
The Wildcats, however, missed four free throws and committed three turnovers in the final four minutes of the game as they dropped a 52-43 decision.
"I think we just (over did it)," Chinle coach Brandon Tso said. "We wanted it so bad that it made us commit turnovers."
The Wildcats had three players in double figures with senior Jimacan Ranger scorching the net with 15 points while Sooner Brady and Tristen Blacksheep helped out with 11 and 10, respectively.
In Division IV boys, the Valley Pirates saw its season come to a close on Thursday at the Prescott Events Center in Prescott Valley, Ariz.
The Pirates had some key players in foul trouble, losing to No. 3 seed Pima, 64-51.
In the girls tournament, Valley advanced into today's semifinals with a 81-55 win over Patagonia Union.
The third seeded Lady Pirates is scheduled to play No. 7 Arizona Lutheran at 2:30 today in Prescott Valley.
In the top half of the bracket, No. 4 Phoenix Country Day eliminated St. Michael from the tournament with a 51-38 win.
---