Wisconsin loses heartbreaker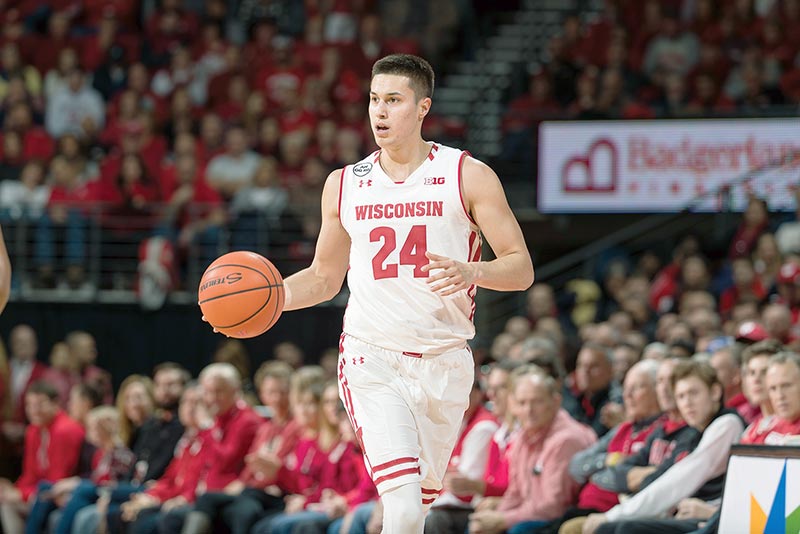 Ho Chunk native Koenig to continue to inspire others
NEW YORK
Florida's Hail Mary three-pointer that eliminated the Wisconsin Badgers from the NCAA Tournament's Sweet 16 is heartbreaking and part of life, says Bronson Koenig, point guard for the Wisconsin Badgers.
Wisconsin's 84-83 overtime loss to Florida, a March 24 Sweet 16 match-up held in the famous Madison Square Garden, does not define Koenig's career, either.
"I am going to keep doing my thing. I am going to keep inspiring and keep leading," Koenig told the Navajo Times in an interview in the Wisconsin locker room, following his team's NCAA East Regional semifinal loss in New York City.
Over the course of the 2016-2017 season, Koenig, who is half Ho-Chunk, averaged 14.5 points per game, along with 39.0 three-point field-goal percentage. In the game against the Florida Gators, Koenig finished with 13 points, 3 rebounds, and 2 assists.
This was Wisconsin's fourth consecutive Sweet 16. The 2016-2017 Badgers' season ends with a 27-10 overall record.
"Yeah, obviously, it's a tough way to lose. A tough way to end my career," he said. "We were resilient and fought the whole game. We were in position to win. We just left it all on the court."
For the Navajo Times, it was a rare moment to talk to Koenig, a role model and ambassador for Native Americans everywhere.
Now, the next step for the 6'3 and 190-pound Wisconsin point guard is the prospect of the NBA.
To get there, Koenig, of La Crosse, Wisconsin, says requires the process of hard work, or "grinding."
"And keep grinding, to make it as possibly far as I can in life," he told the Navajo Times, while other sports writers swarmed him with questions about the Sweet 16 game for their stories.
"You know, in the NBA, yeah," he said, while still processing the shock of the loss.
While his body language showed disinterest with the media, considering how the Badgers lost, Koenig managed to keep cool and collected.
"Like I said before, you know, I am going to keep doing my thing. And keep, you know, trying to keep inspiring Native Americans all over the country. And, you know, any time I have, going to different reservations or whatever," he said, adding, "Giving speeches. Giving words of advice to anyone who wants to listen."
---