Navajo Prep graduate to play college football in Minnesota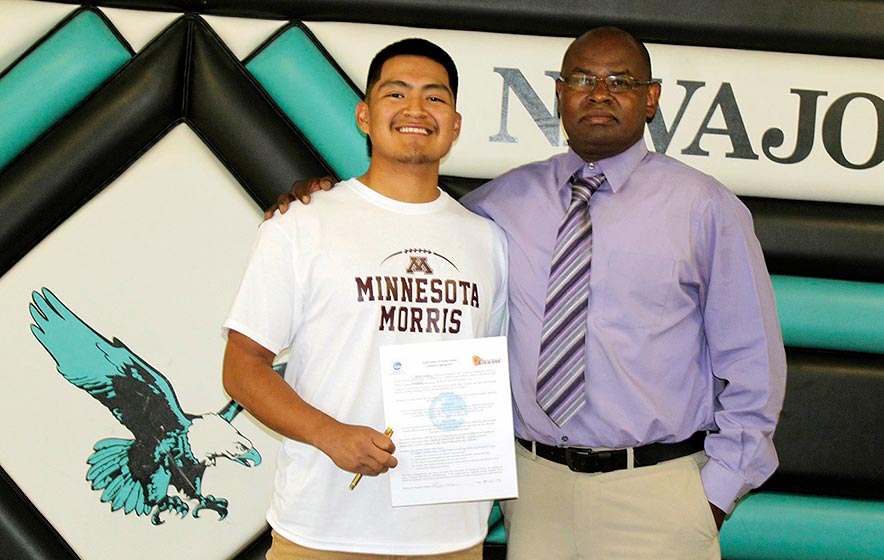 WINDOW ROCK
Kyler Clitso knew he could play college football since his sophomore year.
The recent Navajo Prep graduate got his name out there by attending whatever camps he could.
"I did that to help my recruiting process, but then COVID happened," Clitso said. "I didn't get to have a junior season. If we had played, I may have had other offers, but it's OK. I had one great senior season."
Clitso settled on signing with the University of Minnesota-Morris of the few interested schools.
"I chose the school because it seemed like a good fit for me," he said. "The coaches were really excited to recruit me. They kept in contact with me, and the whole recruiting process was just smooth.
"I had other schools that I was in contact with, but they seem like the most interested," he added. "They're building a good program out there, and they're losing two of their starters, so I think I'll be able to help them out."
"I just have to prove myself, so I'm going to work hard during the offseason to play in the fall. I'm going to do my best."
Clitso will be playing slot receiver for the Minnesota college, one of many positions he played for then-Navajo Prep coach Roderick Denetso.
"He's one of those kids that is very athletic," Denetso said of his pupil. "He can play linebacker, and he can play safety, and at the same time, he played running back and slot receiver.
"He's just an athlete," he added.
Clitso played two seasons under Denetso, who stepped away as the football coach earlier this year.
"He was part of that rebuilding year when I first came back to coach at Prep again," Denetso said. "He's that kind of kid that has a lot of football knowledge, and he's that kid that lived in the weight room."
The former Navajo Prep coach said Clitso did all the extra stuff to get himself noticed.
"He watched a lot of film, and overall, he's just a hard worker," he said.
And while he used one of his contacts to get Clitso recruited, Denetso said his pupil did most of the legwork to get himself signed.
"We used one of our resources to get him recruited, and he did the rest," Denetso said.
Denetso described Clitso as one of the hardest working members of his team. Last season, the Eagles made the 3A state playoffs and finished the year at 5-6 overall, including three forfeited games.
"It's mainly my drive in wanting to prove myself to others that I can play," Clitso said when asked about his work ethic.
"Now that I've signed, I have to work even harder than I did in high school," he said.
While in high school, Clitso said he hit the weight room as much as he could. He also worked on his footwork, and he watched a lot of film to get acclimated to collegiate football.
"I've watched a lot of film on college and NFL football," he said. "To be my best, I have to have a high IQ and just be a guru of football. You know it takes a lot of passion, and this is something that I've always wanted to do.
"I know I have the ability to play at the highest level, and I think my work ethic comes from people doubting me," he said. "I always want to prove them wrong."
Clitso said watching any film in football is real important. He believes that when you do that, it translates into how you play.
"In college, they film practices so that you can learn what you're doing wrong, and then you can make those corrections," he said.
As for game film, Clitso said they do that to look out for tendencies.
"It helps you recognize what the other team does, and I look out for route running," he said. "It helps to break down things because the little things matter. It's all about adjustments, and it's a learning process."
While at Minnesota-Morris, Clitso will enter the pre-engineering at the four-year liberal arts college.
He hopes to set an example for his two younger brothers: Aeneas and Kameron Clitso. His mother is Terri Clitso.
"As the older sibling, I have to set a higher standard for them," he said. "I know they'll eventually fill in my shoes to be much better than me."
---