Diné Phyllis Stanley conquers conditions, Cocodona 250 Ultra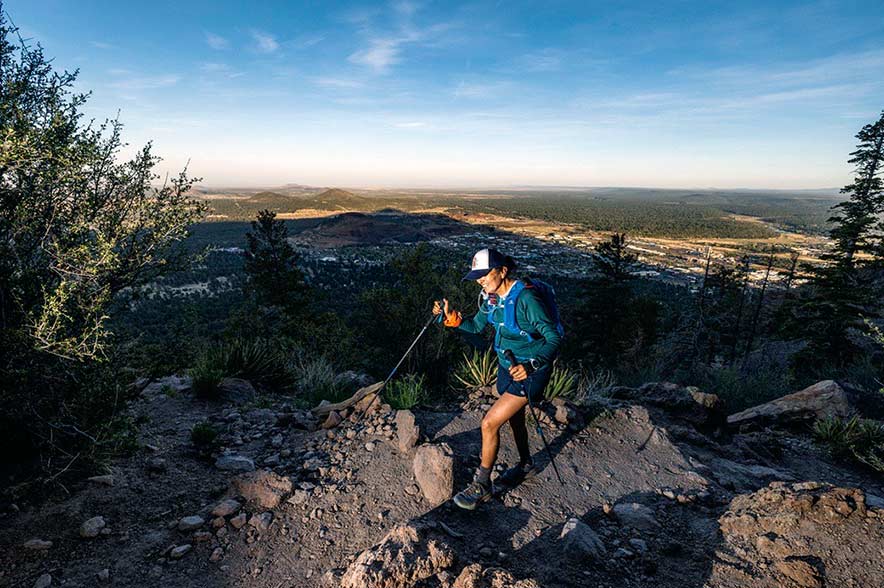 WINDOW ROCK
Phyllis Stanley participated in the 2022 Cocodona 250 ultramarathon on May 1.
She is Bit'ahnii and was born for Kinłichíi'nii.
This is Stanley's second attempt, having raced last year but didn't finish. But she was ready this year, crossing the finish line in 82nd place overall.
"This year is my redemption attempt," Stanley said. "Which I'm really glad and happy about.
"That was a successful outcome because I did try it last year," she said. "I attempted, and I ended up dropping out after 100 miles. So, going back to get it off my back feels amazing."
Elements for running
Stanley said any element in its extreme presents challenges that make running harder. That's what she had to face.
Although she was born in Arizona, Stanley moved to Washington state years ago. Aside from the occasional visit home, the humidity and high elevation hit her hard.
She said between the heat, the rough trails, dehydration, and cramps; there were a lot of obstacles for her to overcome.
After the Cocodona race last year, she ran in the Bigfoot 200 Endurance Run in Washington state, where she picked up tricks – such as taking naps at an aid station – for long-distance runs.
Although it was a race, Stanley wasn't looking to beat anyone. She enjoys challenging herself, running, and sharing the experience with her friends and family.
Stanley said the Cocodona was the longest – and most challenging – run she's ever done. While she is proud of her race buckle, she believes she won't be a participant again.
However, she's interested in doing another 200-mile race.
Positive power
In her photos, Stanley is smiling, but through her pain.
She credits her finish with her mental toughness. She said being a strong runner helps, but one must be strong mentally to finish a race.
"I really enjoy doing these things," Stanley said. "In the moment when I'm suffering, I think to myself, 'Why am I doing this? Why do I pay money to do this? This is really stupid. I'm hurting everywhere, and I want to be in a comfortable bed. But here I am, just killing myself. Why?'
"But then once you're done, you're like, 'Oh my God, that was amazing, that was so fun.'"
Finding peace
Originally from the Kayenta area, Stanley grew up hauling water, herding sheep, and running before sunrise.
When she was raising livestock alongside her siblings and growing up in a harsh environment, she realized how strong she was and how she liked to test herself.
She respected the Navajo traditions, but it wasn't until years later did she rediscover the value of running.
Her journey began with great hardship; after the consecutive losses of her mother, sister, and brother to cancer, she started running to find peace.
"Once I took off-trail running, it was easier to process all that grief, all that sadness," she said, "easier to just pray while you're out there amongst the trails in the mountains; easier to process all those thoughts of losing loved ones and just letting that go.
Running community
Stanley is now part of the running community, in which she meets new people and running friends who encourage and motivate her to run further.
She began running in small races before participating in an ultra-marathon in 2005. Her first 100-miler was the Javelina Jundred near Fountain Hills, Arizona, in 2019.
She said she didn't think she would have participated in running events across the country, especially as a single mother raising two growing sons. Now she believes anything is possible.
She is proud of her milestone accomplishment and embraces the ideals of the Navajo running culture. She hopes to see her fellow Diné participating in running events, believing it will benefit their health and mental state and unite the community.
She said she usually sees one or two Natives running in events, but that number needs to increase.
"I think it'd be really cool," she said. "I think about that, so hopefully, some people can also get inspired to do this because I would love to see more of our Diné brothers and sisters sharing this experience because it is quite a ride."
Stanley is preparing for the Crazy Mountain 100 in Montana, the first-ever 100-mile race the state will host.
---