Newcomb's next target: Fort Sumner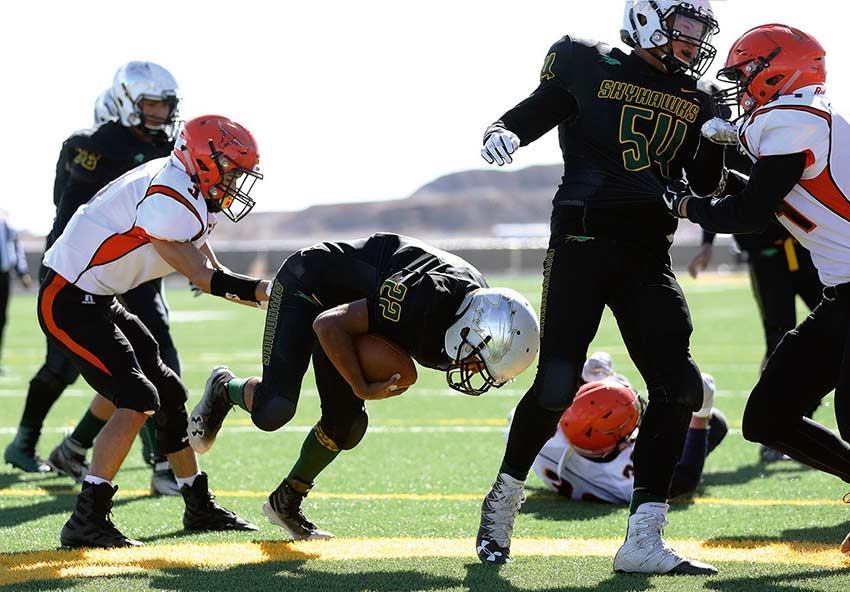 FRUITLAND, N.M.
The No. 6 Newcomb Skyhawks defeated No. 11 Lordsburg 56-20 in the first round of the Class 2A state playoffs.
Newcomb head coach Eric Stovall said his team was ready to prove they could do more.
"It's a tribute to the kids' resilience, their mental toughness," he said. "I think we challenged a few solid teams that we played this year, some high-caliber teams. And of course falling short to Escalante, I think it taught us some valuable lessons. We got to go back to work and grind it out."
The two teams went head to head in the first quarter before Newcomb scored with about three minutes left. Leandreth Begay scored with a 12-yard run but the Skyhawks fell short in the extra-point attempt. Newcomb led 6-0.
With a minute left in the first quarter, Lordsburg scored and added two extra points to take the 8-6 lead.
Stovall said his defense remained constant.
"The first quarter was somewhat slow going," he said. "Then we kind of got going after a while on offense. On defense we did a good job."
Newcomb scored two more touchdowns in the second quarter and led 18-8 at the half.
Newcomb scored a few more times and allowed Lordsburg to do the same before the end of the 56-20 win.
"We turned it on the third quarter," Stovall said. "I'm really proud of our defense and the way they performed. Our special teams were exceptional. Big thanks to the assistant coaches."
Newcomb travels to No. 3 Fort Sumner/House at Fort Sumner High for a 1 p.m. game on Saturday.
Stovall said Fort Sumer/House has size but with the tough games his team has had this season, he's sure they can share the same field.
---