TC looking to change underdog status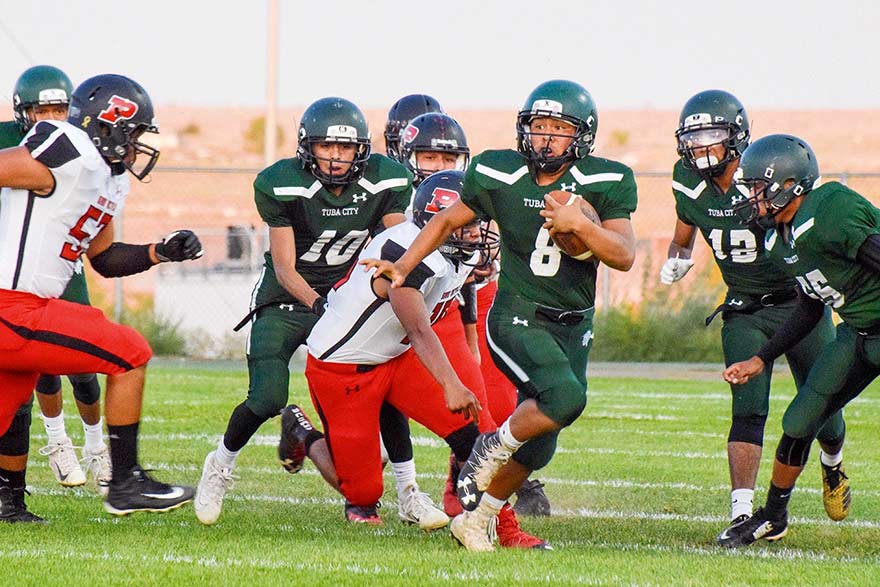 WINDOW ROCK
For the past few seasons the Tuba City football squad played the role of underdog but with a core of returning players the Warriors are looking to change that.
Tuba City returns eight players on offense and six on defense as they hope to improve on their 1-9 slate from last season under first-year coach Vincent Lee.
"Our defense looks to impose their will through fast and physical play," said Lee, who made the move to Tuba City from Valley Vista High School in Surprise, Arizona.
Based on last season's results, Lee said his players are hungry, especially the secondary and linebacking crew, which include seniors Jalen Bedonie, Marcal Whiterock and Preston Jackson, and juniors Seth Brown, Justin Dash and Nick Yazzie.
"They are going to play with a chip on their shoulder," he said, while noting that they are looking to earn respect from the opposing team.
Offensively, he said his team wants to dictate the pace of the game through a bruising running game with their returning backfield consisting of senior Marcal Whiterock, and juniors Seth Brown and Nick Yazzie.
"We're looking to establish a physical run game," he said. "We want to punish the opposing team's defense."
By inheriting a team that has a good number of upper classmen, Lee said he's looking to build depth across the board. He said more bodies means fresher legs, limiting how many players will go two-way football.
"We want to build on that and grow as a team to compete," he said. "We're looking to compete."
---