'Give your dreams a shot'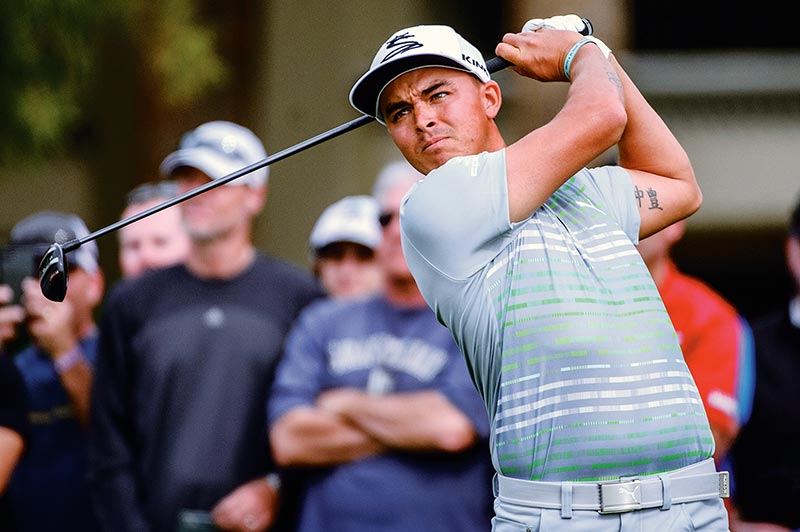 Fowler thrills PGA fans with his play and flair
SCOTTSDALE
His hair is short and cut clean, his sea shell bracelet has been replaced with a Rolex watch and his once bare arms are now inked with tributes to his past and his present.
He still wears flashy clothes and dresses in a youthful style, but he now has the flair of a seasoned 28-year-old professional.
Rickie Fowler, the hazel-eyed Navajo kid from Murrieta, Calif., with roots in Coal Mine Canyon and Tuba City, is all grown up.
"I think I'm growing up a little bit," Fowler said with a smile. "Obviously I've spent quite a bit more time on the (PGA) tour this being my eighth full season, my ninth time playing here, because they gave me a spot as an amateur, so yeah, I'm a lot more experienced now."
Fowler was first featured in the Navajo Times in 2010, at his second Waste Management Phoenix Open in Scottsdale, but his first as a pro after receiving his PGA Tour card.
His ninth appearance in the WMPO tournament held Feb. 2-5 in Scottsdale was another one for the books. Fowler tied for fourth, finishing at 15-under and a 269 total score. He shot a 65 on the final day and finished just two strokes behind winner Hideki Matsuyama (17-under, 267).
In the WMPO last year Fowler finished as runner-up champion after a sudden-death four-hole playoff round with Matsuyama. He also finished in second place in the 2010 tournament.
Fowler has come a long way since his professional debut.
"You start to feel more and more comfortable the more times you play around the courses and at different tournaments. It's always fun to come back here," he said with a grin. "They gave me an invite as an amateur and it gets pretty crazy here – a lot of people."
---