Local athletes thrive in 2014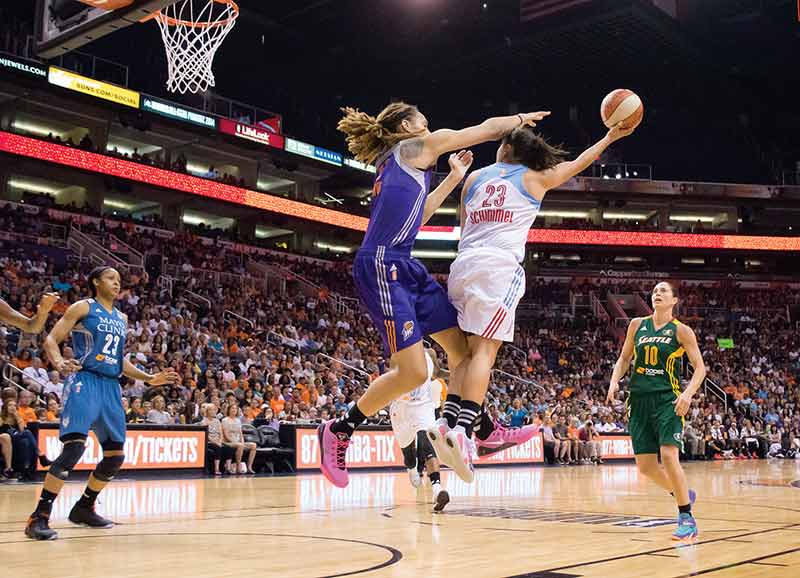 WINDOW ROCK
2014 proved to be a good year for our local athletes but in my review I went with Shoni Schimmel as my top story.
1. Shoni Schimmel takes her game to WNBA.
The "Shoni Schimmel Show" was the latest craze that hit the Women's National Basketball Association this past year.
Since joining the league as the eighth overall pick in the 2014 WNBA draft, the Atlanta rookie guard out of Louisville brought her entertaining style of play (rez ball) to the pro leagues.
Schimmel, along with her sister, Jude, has inspired Native Americans all over the country. In the two games she played at the US Airways Center in Phoenix, Shoni had thousands of fans displaying their loyalty with many of them coming from the Navajo Nation.
"It's awesome and I'm grateful," Schimmel said earlier this year while addressing the crowd during their regular season game with the Phoenix Mercury in August. "You guys traveled across the country to make this game. Thanks for coming, it means the world to me."
At the 2014 WNBA All-Star game, Schimmel led the East team to a 125-124 overtime victory. Schimmel outdueled Tulsa Shock Skylar Diggins for the MVP award as the former Louisville star set a new All-Star record by scoring a game-high 29 points and finished with eight assists.
Diggins, a second-year pro out of Norte Dame, led the West team with 27 points and seven assists.
2. Aaron Tsinigine finishes third in the world.
In his first qualification at the Wrangler National Finals Rodeo, Tuba City team roper Aaron Tsinigine went on a hot streak in the latter part of the 10-day event, which was held at the famed Thomas & Mack Center in Las Vegas, Nev.
With his partner Clay O'Brien Cooper, Tsinigine roped nine of 10 draws and finished third in the average race as both ropers collected $85,510.81.
With that Tsinigine pushed his year-end total to $153,584 and moved up 11 spots to finish third in the world standings.
"For my first year I couldn't have asked for a better finals," Tsinigine said. "It was fun competing with my buddies Dustin Bird and Erich Rogers. They helped me out throughout the whole deal. I am proud of them and I am pretty sure they're proud of me."
At the finals, Rogers placed seventh in the average race with partner Cory Petska. Both ropers recorded a 3.9 run in the seventh round for a second place check worth $15,018.
All told, Rogers pocketed $32,794 at this year's WNFR by placing in three rounds.
Bird, meanwhile, banked $56,087 with partner Paul Eaves. The pair won two go round buckles that were worth $19,002 each.