The new battlefield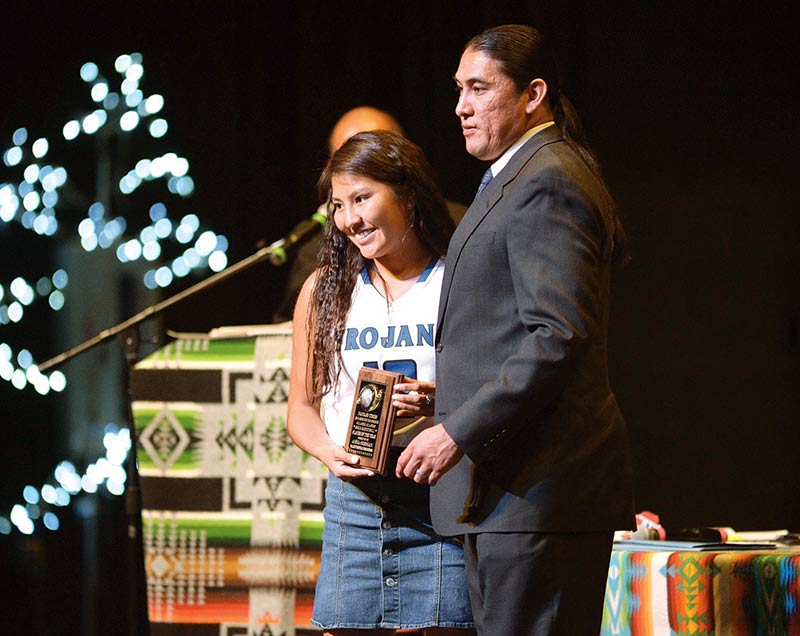 All-Stars speaker: Competition is everywhere
SHIPROCK
Boundaries no longer exist for Kayla Chee.
The Window Rock High School wrestler spent the last three years of high school blurring boundaries for female wrestlers everywhere.
Chee, along with dozens of high school area athletes, was recognized for many achievements at the 2018 Navajo Times Winter All-Star awards ceremony held at the Phil Thomas Performing Arts Center in Shiprock.
Chee said she was elated to be recognized for something she worked hard to realize.
"It was actually really surprising, and I was excited because as a female wrestler it's kind of hard to wrestle with the boys," she said. "Its tough to be in wrestling as a girl, but girls can do anything the boys can."
Chee was named Female Wrestler of the Year along with Aztec's Isabella Wells, Miyamura's Yele Aycock, Miyamura's Nancy Rodriquez, and Tuba City's Karis Begaye. It was the first year the Navajo Times honored female wrestlers of the year.
The annual awards ceremony began with the traditional photo sessions for all-stars and coaches of the year in each category.
Following the photo session was recognition of girls' basketball all-stars.
Six players were named Players of the Year in girl's basketball. They were Tohatchi's Kalian Mitchell, Bloomfield's Brandi Alcantar, Kirtland Central's Haile Gleason, St. Michael's Jalynn Smith, Valley Christian's Anna Gorman, and Flagstaff's Monique Ware.
Gleason was a five-year varsity starter for the Broncos, District 1-5A MVP this season, as well as New Mexico First-Team All-State.
She led the Broncos to the semifinals of the state tournament where they ended their season.
Gleason said she thought she had a chance of earning girls basketball player of the year because the team had made it deep into the playoffs, and she played well in the postseason.
"I was really happy that I got to be honored and recognized. There's a lot of great players out there," she said. "I think that I made plays in games and I made things happen. I got my teammates open, and I gave up the ball. If I had a good shot and I saw one of my teammates had a better one, I'd give it up. It was a pretty good year."
Recognizing and taking advantage of opportunities, along with putting in the effort into one's craft, was the theme for this year's guest speech.
Lamoni Poweshiek Yazzie, who is Navajo, Comanche, and Sac and Fox, was the keynote speaker for the event.
Yazzie was a graduate of Greyhills Academy High School and was recruited to play Division I basketball for the United States Air Force Academy. As a senior for the Falcons, Yazzie was the first Division I Native American team captain and the team's most valuable player.
Yazzie shared stories of adolescence and his time in the Air Force looking to make a name for himself.
He said he had to put in extra work for everything he earned, and encouraged the audience to do the same, especially the student-athletes being recognized.
"I want to challenge everybody to continue to seek that knowledge, continually push yourself for excellence, reinvent yourself. If you're stagnant and you think what you do now is going to be good for tomorrow, nine times out 10 you're going to be wrong, because somebody out there is working harder than you, somebody out there is doing 10 times more than you are doing, somebody out there is putting way more hours than you are," he said. "You might not meet him today, but you will meet them, and when you do, the question you have to ask yourself is, 'Are you ready, are you ready for that challenge?'"
Yazzie said there were times where he faced self-doubt as he wasn't as tall as many of his teammates, or even as fast as them, but he refused to accept it and put in the work to set himself apart.
"It doesn't matter where you go, if you're a good and excellent human being, and you're striving for excellence day in and day out, you'll accomplish those dreams, you'll accomplish those goals, you'll get to your ultimate goal," he said.
---