Running on empty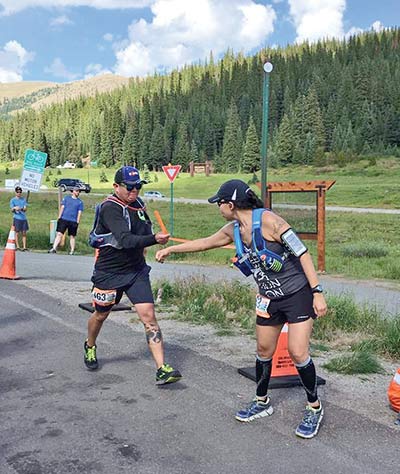 Ragnar racers are gluttons for punishment, cheap medals
WINDOW ROCK
It's pitch black, and you're running through a dry wash with just a headlamp for light. Other than some gel and a power bar, you haven't eaten or slept in nearly 24 hours.
Behind you, way too close for comfort, you hear the encroaching yip of a coyote, and wonder if you should stop running long enough to pick up a handful of pebbles for self-defense.
A nightmare after too much mutton stew at Grandma's sheep camp?
Nope. Believe it or not, this is some people's idea of fun. Way more people than you might expect, in fact.
Ragnar Relay Races, which is what we're talking about here, often attract 800 or more teams — and at 12 members per team, you're talking up to 9,600 people for a single race.
And, as with anything this rigorous and quirky, there are Navajos involved.
Named after legendary Viking hero Ragnar Lodbrok, Ragnar Relays started in 2004 in Logan, Utah, the brainchild of runner Steve Hill, Steve's son Dan, and Dan's college roommate, Tanner Bell.
Steve Hill was a trail runner looking for a challenge and wondered what it would be like to run a long endurance race overnight, alternating with other runners to achieve a feat no single athlete could.
The first Ragnar spanned 188 miles from Logan to Park City, Utah. It was inordinately popular. Without meaning to, as so often happens, three men had founded a movement.
Today, there are about 26 Ragnar Relays a year, about half on road and half on trail, spread from Napa Valley to Cape Cod and this year, even Hawaii. (The original race, now known as "The Wasatch Back," is still around, but has lost some participation with so many other Ragnars to choose from.)
All Ragnars are roughly 200 miles, run as a relay from 6:04 in the morning to evening of the following day. Teams can be comprised of 12 (regular) or 6 (ultra) runners.
Over the years, Ragnar has evolved its own lingo. For instance, people you pass are referred to as "kills," and people who run all the road or trail races in one year are referred to as "immortals."
"Legs," or portions of the race covered by one runner, can be anywhere from two to 13 miles, so runners of different abilities can be on the same team. While one team member is running, the others are eating, sleeping, driving a teammate to the next "exchange" or preparing for their next leg. But it's rare anyone gets to sleep through the night.
"Generally you'll get a couple of hours of sleep," said Karen Tom of Fort Defiance, who is coming up on her fifth Ragnar.
Sleep is either in the team's van, at a local motel or in a church or school that will charge you a couple of bucks to stretch a sleeping bag on the floor and a few more to shower.
"You're so tired, you don't need a cot," explained Tom's teammate, Kim Goldtooth of St. Michaels, Arizona.
(This is where moms have it all over their competitors: "If you're a parent, the sleep-deprivation instinct kicks in," explained Tom, who had the aforementioned close encounter of the coyote kind.)
Food is also on the fly — protein bars, gel packs and, if you're lucky, steaming heaps of carbs from a local take-out.
"Sometimes you're so tired you'd rather sleep than eat," noted Travida George of San Tan Valley, Arizona, the captain of Tom's team, We Run Things.
"But then when you're running, you're like, 'Darn, I should have eaten!'" interjected teammate Amber Wauneka of Fort Defiance.
While Wauneka's team is all Navajo, Peterson Begay of Chinle is the only Native on his team, Dead by Dawn, which is based in Ohio.
Like a lot of Ragnarians, Begay got into the sport without knowing much about it.
"My wife's nephew's wife (Katie DiLuccio) wasn't able to run with her team one time, so she talked me into taking her place," Begay recalled. "She said, 'All you have to do is run.' She didn't tell me I'd be doing it on two hours' sleep."
Begay clicked with the friendly Midwesterners of Dead by Dawn — one of the more famous Ragnar teams with father-son captains who are both immortals — and now joins them on a lot of their races. After just a year, he has seven Ragnars under his belt and two double medals for running pairs of qualified races.
"For me, I like seeing new places and meeting people from all over," Begay said. "Some people dress up in crazy costumes, which is really fun."
He hasn't had any encounters with animals like Tom's coyote, but as a Navajo, he had an uneasy race where two checkpoints were at cemeteries.
"People were stretching their legs on the tombstones," he recalled. "I was like, 'Have some respect for the dead, you guys!'"
So, surely, with all the duress and deprivation, the prizes for these relays must be pretty darned good, yes?
No. Cheap, gaudy medals and bragging rights for finishing, and if you place, little things you can add to your medal and sometimes prizes.
On the plus side, "When you lay your team's medals all together, they spell out an inspirational saying," Tom noted.
"And they're also bottle openers," added Wauneka brightly.
If, for some reason, Ragnar sounds appealing to you, you don't have to field a 12-member team. Most of the Navajo runners got into the sport by going online or downloading the Ragnar app, which among many other things, lists teams looking for a 12th. But beware: This sport is addictive.
"When you finish one, you think, 'I'm never doing this again,'" said Tom. "After a week of recovery, you're going, 'OK, when's the next race?'"
Information: www.runragnar.com
---