Tohatchi sets new state standard in 4×800 relay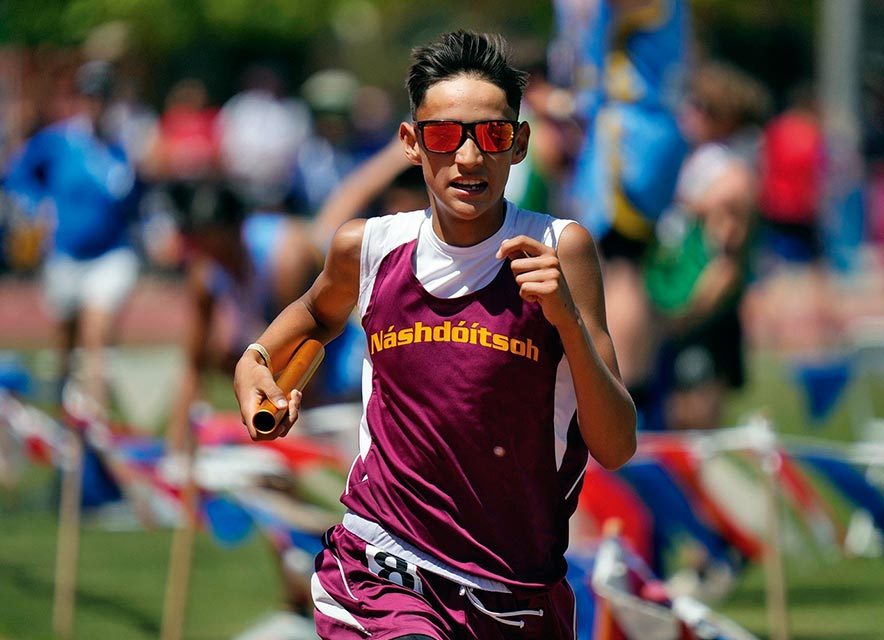 ALBUQUERQUE
The New Mexico Activities Association introduced the 4×800 relay race as a standard event last season.
In its inaugural year, the Santa Fe Prep Blue Griffins ran an 8:45.11, setting the Class 3A boys state record.
On Saturday morning, three teams surpassed that benchmark in a competitive field, with the Tohatchi Cougars setting a new standard.
Tohatchi won the eight-lap race in 8:25.63, ahead of Zuni (8:28.12) and Cottonwood Classical Prep (8:30.38).
"Man, this means everything to us," said senior Nicholas Yazzie, who ran the first leg of the race.
"We were hungry, and we worked very hard to get to where we're at right now, so this took a lot of sacrifices," he said. "What we did to prepare for this really paid off today."
Sophomore Briley Dauphinais ran the second leg, followed by senior Melvin Scott Jr., while sophomore Jared Peterson ran the anchor leg.
Despite the other teams having faster starts, Tohatchi stayed within striking distance. And in the final baton exchange, Peterson had to make up some ground as he trailed Zuni's Kyle Awelagte by 50-plus yards.
"In my first lap, I kind of got a feeling that I could catch him," Peterson said. "In the second lap, I picked it up more, and I got closer and closer until I got to 150, and that is when I caught him, so I had to push myself even more."
On the final turn, Peterson said he got a boost from the cheering crowd. But admittedly, he was afraid that the Zuni runner would overtake him.
"I thought he would come back on me," the Tohatchi middle-distance specialist said. "I didn't want to slow down, so I just kept going.
Entering the state meet, Zuni and Tohatchi were seeded 1-2, with 1.1 seconds separating the two squads.
Zuni ran an 8:48.04 during the Harry Hayes Invitational at Bloomfield High on April 9.
The Cougars, meanwhile, ran an 8:49.14 at the Winslow Invitational on April 12. That was the last time Tohatchi ran that race before the state meet.
"We kind of blew away our PR," Dauphinais said. "We beat it today by (22) seconds, so we did really good."
The Tohatchi sophomore said they've been running gap times of 2:10 in practice, so it seemed plausible that they could set a new state record.
"We kind of knew that we could be in the 8:30s," he said.
Dauphinais was sitting third behind frontrunner Cottonwood Classical and Zuni in his leg.
"Once they got the baton, they took off running," he said of the two teams ahead of him. "We were pretty far behind, and I tried my best to catch them. I kind of waited until the second lap to chase them."
In the third leg, the Tohatchi squad made some strides in closing that gap, with Scott turning it up a notch.
"In my last lap, I was able to kick it in and get pass the Cottonwood kid," Scott said.
Still, the Cougars had to overcome the 50-plus yard gap when Peterson took over.
"A big thanks to this guy," Scott said of his teammate. "With Jared, we knew he could do it.
"I'm just so proud of my team," he added. "It means everything to win this. We worked for it, and I'm glad we got it."
The Cougars also took home some hardware in the open events, with Scott setting new personal best in the 1600 and 3200.
In the 1600, he beat his previous best by almost eight seconds with a 4:43.63 effort. He then added a new PR of 10:37.54 in the 3200, shattering his previous best by over 14 seconds.
"I'm really proud of myself," said Scott as he took home two additional bronze medals.
"I'm glad I got to do this because running has been a big part of my life," he said. "I've met a lot of people through running, and it's opened a lot of doors for me. I'm looking to grow more when I get to college (at Western New Mexico University)."
In the open 800, Peterson added a third-place finish of 2:03.78, while Dauphinais placed sixth with a time of 2:09.26.
Peterson added one more state medal to his haul as he finished fifth in the 400 meters at 52.81 seconds.
---