'We can't mess around': SFIS calls off volleyball, cross-country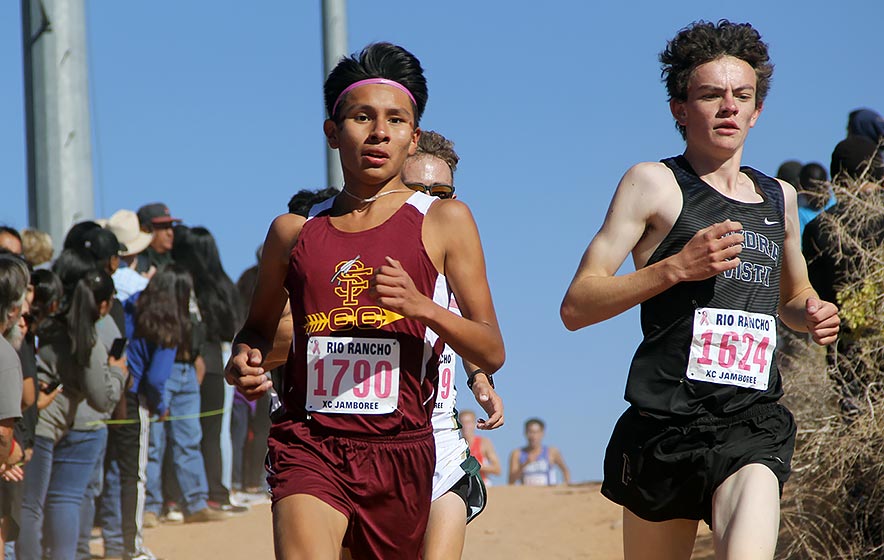 WINDOW ROCK
With the campus still closed due to the COVID-19 pandemic, the Santa Fe Indian School administrators have canceled the 2020 fall sports season for volleyball and cross-country.
"Our campus has been shut down since about mid-March," said Eric Brock, the SFIS athletic director. "Like everybody else we're doing remote learning. Our superintendent, along with our school board, and with advice from the 19 pueblos governors, we have decided to keep the school closed."
With the closure, Brock said they are unable to house kids on campus so they informed the New Mexico Activities Association on Sept. 14 that they were going to forgo the fall sports season.
"Our kids come from vast areas with 75 percent of them being dorm students," he said of the roughly 700 students from seventh to 12th grade with 500 at the high school level.
"If we had some kids on campus, that would have activated the dorm department, that would activate the cafeteria department and that would activate the transportation department," he said. "It's one of those deals to where if we had a few kids on campus we might as well as have everybody on campus."
Brock said there are no current plans to reopen the school any time soon but they are assessing the situation in hopes of bringing the kids back on campus.
"We try to reevaluate it every couple of weeks," he said. "We're looking at how the cases are in New Mexico and we're looking at what our governors are doing in their pueblos. A majority of the pueblos are still closed for people coming on and off the reservation. Until the governors let their people on and off their reservations a little more frequently I'm sure we'll move in that direction."
Because of the pandemic, Brock said, there are a lot of unknowns as the school administrators have not set a tentative date on when the school will reopen for in-class sessions.
"We just don't know but for now we've made a decision to continue with remote learning for the rest of the semester," he said. "And until things get better our campus will remain closed."
And though it was a tough decision to make, Brock said it was a necessary one as the school is looking out for the safety and well being of its students.
"We really empathize for our kids, especially the two fall sports in cross-country and volleyball," Brock said. "Our hearts go to them, especially our seniors. They were looking forward to a good senior year."
According to Brock, the two sports were regularly invited for postseason competition with the boys' cross-country team finishing as the reserve champions at the 3A level last year.
"This has been really hard on my kids," SFIS cross-country coach Joe Calabaza said. "I have 10 seniors on the team so we're pretty bummed about not having a season."
Of the 10 seniors, Calabaza said six of those members were part of the state runner-up team last year headed by seniors Christopher Humetewa, Isaiah Velasquez, Isaiah Desheno and Ethan Vigil.
"We had a great team," he said, while noting that Humetewa finished third and Velasquez placed 10th overall at the state meet last fall at Rio Rancho High School.
On the girls' team, the Lady Braves were supposed to welcome back five sophomores off last year's fourth-place team headed by the 10th-place finish by Kendra Emery.
Like the cross-country programs, the SFIS volleyball team was looking at a promising year.
"If you saw us play last year you would have seen how young we were," Braves volleyball coach Brian Gurule said. "We had one senior last year and the rest of the group comprised of freshmen, sophomores and juniors. I was going to be returning 14 varsity players."
Gurule said it's unfortunate that they didn't get to compete this year, considering the potential they had as the Braves were looking to make a return trip to state.
"It was a tough decision and you know we support the decision by Santa Fe Indian," Gurule said. "The safety of our kids, our staff and coaches is very important. And I respect that and I understand why they made this decision because this is a virus that we can't mess around with."
Despite not competing for Santa Fe Indian School this year, the NMAA granted a one-year exemption for the athletes at SFIS to compete for other schools within their home district.
"We're very appreciative that the NMAA did that for us," Brock said of the emergency meeting the NMAA had on Oct. 1 to address this.
Brock said the decision the NMAA made for SFIS is very similar to the charter school/home school rule in which athletes are allowed to participate in their home school.
And although some of the smaller public schools have opted out of the fall season their athletes can't participate at another school due to longstanding bylaws put in place by the NMAA.
The athletes at SFIS got around that as school administrators argued that it would put their athletes at a disadvantage, especially the seniors, when it comes to earning scholarships.
Brock said the only other choice for their athletes was to disenroll and transfer to another school but that would have "interrupted their academics in terms of losing a credit or two."
"The NMAA took that into account and let our student-athletes compete at other schools," he said.
With that ruling, Gurule said he's encouraging his athletes to take advantage of this exemption.
"They're going to be playing elsewhere but it's kind of sad because the kids have asked me what would we have been like as a team this year," he said. "I'm just trying to stay positive for the girls. I want to be there for them and keep them motivated."
Nevertheless, Gurule said there is small glimmer of hope that his team will be able to play together since the NMAA is awaiting word from Gov. Michelle Lujan Grisham on whether she'll give them the green light for volleyball and cross-country to have a season, which officially started on Monday.
"We're going to see how it goes," he said. "If there is no season in the fall I guess my girls can come back to school if we open up in January and play in the spring."
---